SportMaster acrylic basketball court surfaces are designed for use over asphalt, concrete, or existing acrylic surfaces.  These surfaces are a kind of specialized acrylic paint, fortified with specially graded silica sands for non-slip textures.  The round shape and fine size of the sand in the colored surface coatings gives just enough traction in wet and dry conditions to provide safety without a rough or aggressive finish. Our products are ideal for use in Basketball Court Construction and Painting.
Backyard Basketball Court | Construction & Building
SportMaster surfacing systems provide many advantages for backyard basketball courts , not limited to the following:
Cost effective installation
Very low maintenance required
Seal and protect your asphalt or concrete pavement
Variety of colors. Enhance the aesthetic value of your property.
Stands up to any climate, hot or cold.
Average range of 5 to 8 years between resurfacing
Optional rubber-filled layers for Cushioned Basketball Courts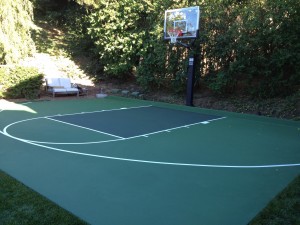 Painting a Basketball Court
SportMaster does produce ready-mix color coatings for basketball court surfaces.  However, it can be difficult to apply without plenty of previous experience.  The best way to apply these textured court paints is with a soft rubber squeegee, like the SportMaster Sport Squeegee.  Professional sport surfacing contractors are best suited to repair cracks and low spots in the asphalt or concrete substrate, followed by ever-important cleaning and preparation.  Finally, the color coatings can be squeegee applied and the lines can be masked and painted.
Basketball Court Striping Diagram
The dimensions of a basketball court are slightly different for High School, College, and NBA courts.  Here is a basketball court striping diagram for a high school layout.  This is a good, standard layout to use for recreational basketball courts.  If you would like to receive a free estimate on building or surfacing a basketball court, please click on the "contact us" button at the top of the page and fill it out with your contact information.  We will provide you with qualified installers and we will not sell your information or send you junk mail.