Are you looking for the best tennis court resurfacing and repair contractors in Houston Texas? You have come to the right place!  SportMaster Sport Surfaces also have the best tennis court surfaces for Houston and surrounding cities in Texas. SportMaster products are stocked and distributed in Houston and installed by factory authorized tennis court contractors with knowledge and experience in performing the following:
Tennis court maintenance & cleaning
Tennis court crack filling and repair
Tennis court resurfacing
Tennis court striping (Kids tennis, also known as 10 & under tennis, and other sport striping available.  Pickleball blended lines, etc)
Tennis court construction
Fencing, Lighting, Shade structures, etc.
Tennis Court Contractors | Houston Texas
Don't trust your tennis court repair or resurfacing project to just any painter or driveway contractor. You want a qualified and knowledgeable Houston tennis court contractor that knows the right application techniques and products to use on your sport surfaces. We can put you in touch with the best Houston-based contractors, that use SportMaster brand of products. SportMaster is proudly stocked and locally supported in Houston, and other locations throughout South Texas.
 LEED & Tennis Court Surfaces | Houston TX
The extreme heat is Houston can greatly increase the temperature of a tennis court surface. SportMaster has 16 standard tennis court colors, including multiple choices that are lighter in color. These would be beneficial for reflecting sunlight, resulting in cooler tennis court surface temperatures and greater player comfort. Many of these light colors have been tested for solar reflective index (SRI) and meeting the criteria for the U.S.G.B.C. 's (United States Green Building Council) LEED program. This program encourages energy efficient and sustainable design. SportMaster tennis court surfaces fall into several categories, including: SS Credit 7.1: Heat Island Effect: Non-Roof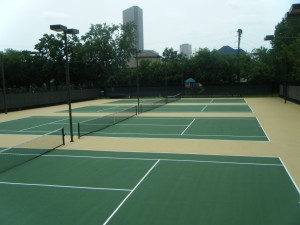 Houston Tennis Court Resurfacing
Houston tennis court resurfacing contractors can get their SportMaster products locally at the SealMaster store in Houston, and other South Texas locations. SealMaster also carriers professional tennis court application squeegees, tools, and equipment along with tennis court coatings, crack fillers, and specialty silica sands. For more information on SportMaster products or qualified contractor referrals, fill out the contact form or reach out to us directly.
SealMaster of Houston & South Texas
14435 I-10 East Freeway
Houston, Texas 77015
Local Phone: (713)453-7325
www.sealmasterhouston.com