Is it time to resurface your tennis court in CT?  We can help you to understand the process by checking out our tennis court guide specifications page.  SportMaster has experienced tennis court contractors that can provide tennis court resurfacing and repair in CT.   If you are trying to budget for tennis court repair, resurfacing, and construction or you have a current need to get estimates and free quotes, we can help.  Just click on the "contact us" button and fill out the form.  We will get back with you quickly and provide qualified and affordable tennis court builders and sport surfacing contractors in Connecticut.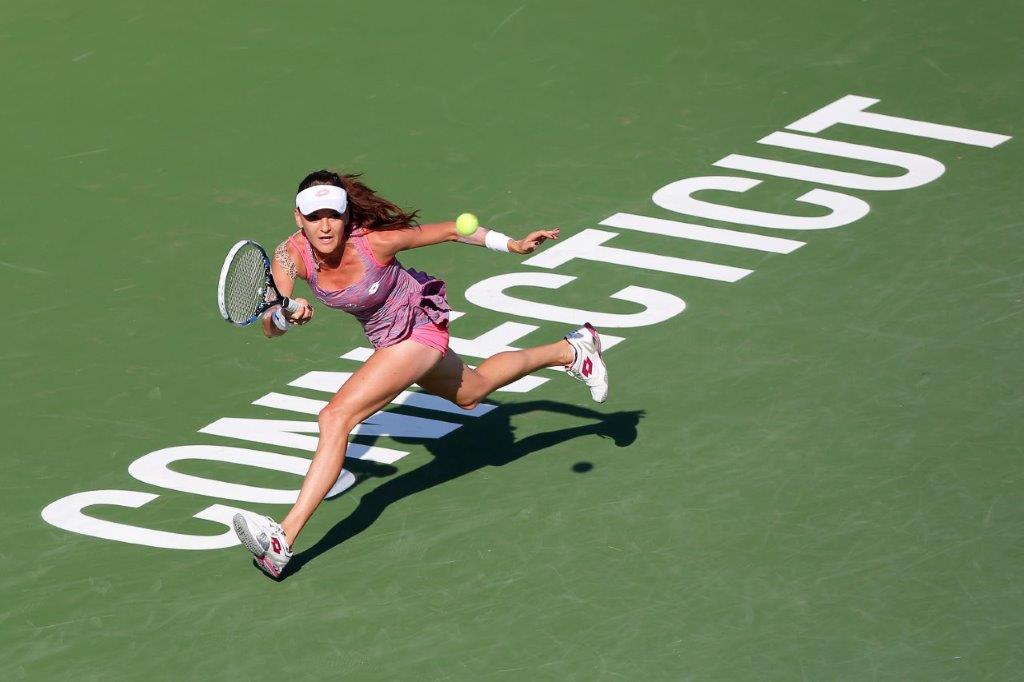 Tennis Court Resurfacing | Connecticut
SportMaster is the official surface of the Connecticut Open.   You can also get this tournament quality playing surface installed, affordably, on your home, club, or school tennis courts.  The Connecticut Open chooses SportMaster as their playing surface for consistent, spin-responsive play.  With over 40 years of sport surfacing experience, trust SportMaster as the surface of your tennis court or athletic sport surface.
How much does it cost to resurface a tennis court in CT?
In most situations, the cost to resurface a tennis court in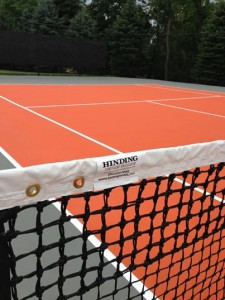 Connecticut usually falls somewhere between $4,000 to $7,000.  The following factors can contribute to the resurfacing cost of a tennis court in CT:
Tennis court surface prep and cleaning
Removal of surface mold, moss, pine sap, etc.
Tennis court crack repair
Cleaning and pressure washing
Puddle or birdbath removal
Aside from surface prep, here are a few surfacing items that can increase the cost:
Premium pigment colors (Purple, Orange, etc.)
Cushioned Tennis Court Surfaces
Additional sport lines or additional coats
Tennis Court Puddle Removal & Patching in CT
Puddles, and low spots that hold water on a tennis court, can be filled and leveled  with SportMaster Acrylic Patch Binder patching mix.  As seen in the video above, this product can be used to fill depressions in the surface so that it can drain properly.  Acrylic Patch Binder can also be used to fill and repair cracks, holes, and other surface damage.  Since it dries sandy-gray in color, any patching or repair will need to be resurfaced or painted with a SportMaster color coating product when the patch is dry.
If you have further questions on tennis court resurfacing and repair in CT,  or would like to setup a free consultation with a tennis court builder and resurfacing contractor, fill out the contact form on this page or on SportMaster's locate installer page.
Service Areas in Connecticut
SportMaster authorized applicators resurface, repair, and build, athletic courts throughout the entire state of Connecticut, including but not limited to:
Old Greenwich
Cheshire Village
Trumbull
Ridgefield
Glastonbury Center
Simsbury Center
Riverside
Westport
Newington
Kensington
Harford
New Haven
Bridgeport
Bristol
And many more…