Tennis court resurfacing and repair in Indiana is available through experienced SportMaster installers.  Our tennis court contractors are trained in tennis court crack repair, puddle removal, patching, and all phases of tennis court resurfacing.  If you are looking for information and pricing to build a new backyard tennis or basketball court in Indiana, we can also help by putting you in touch with a tennis court builder in Indiana.
How much does it cost to resurface a tennis court in Indiana?
The actual price to resurface a tennis court can vary, depending on the amount and type of surface repairs and preparation that needs to be performed.  However, the average range can vary from $4000 to $8000 per regulation-sized tennis court.  Contact us and we can provide you with qualified tennis court builders and resurfacing contractors in Indiana that can perform a site visit and provide you with a free estimate for the following:
Tennis Court Construction (also basketball and other game courts)
Tennis Court Repair (Crack filling and repair, Patching)
Puddle, or birdbath, leveling and removal
Tennis Court Resurfacing
Tennis Court Striping
Installation of posts, nets, windscreen, and many other accessories
Lighting, Fencing, Shade Structures, and more
Tennis Court Color Schemes in Indiana
SportMaster can provide 18 different colors for your tennis, basketball, or game court.  This can offer many different combinations, or color schemes.  Many people choose colors that are close to their favorite college or professional sports team.  Others go with a more traditional or trendy theme.  Our local, Indiana-based installers can also provide custom logos and designs on your tennis court basketball court.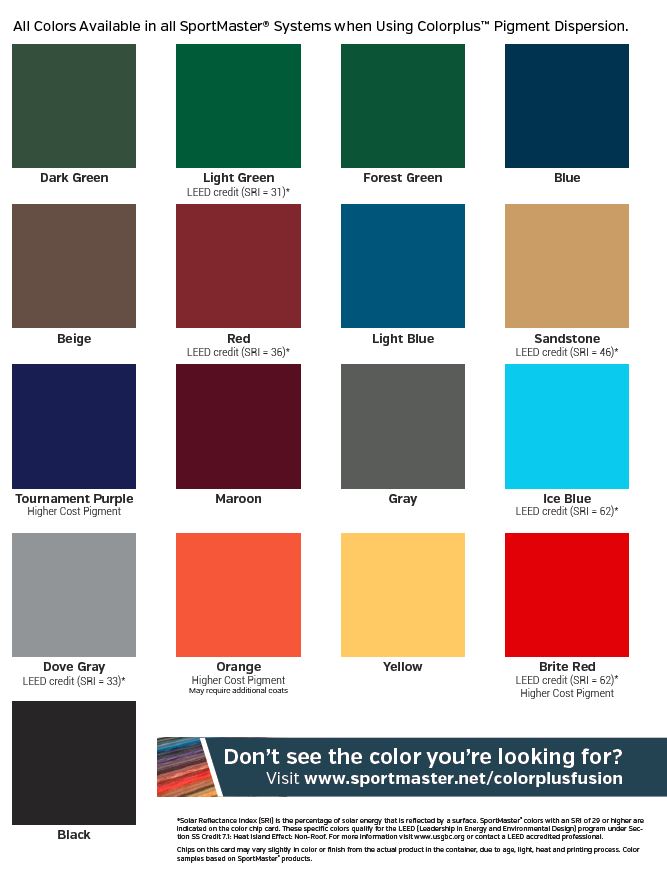 Tennis Court Surfaces in Indiana
SportMaster tennis court surfaces are stocked in Indiana and distributed through SealMaster of Indiana.  Our local representatives and assist court owners and specifiers with product data and offer specification assistance.  If you have any product questions or would like quality contractor referrals, feel free to fill out the contact form on this page or reach out to us at the locations below.
Merrillville
8251 Utah Street
Merrillville, IN  46410
Local Phone: (219) 973-2924
Toll Free: (866) 352-1588
www.sealmasterindy.com

Indianapolis
1010 East Sumner
Indianapolis, IN  46227
Local Phone: (317) 780-1310
Toll Free: (866) 352-1588
South Bend Indiana
25295 Western Ave.
South Bend, IN 46619
Local Phone: (574) 855-4073