Cracking in asphalt and concrete tennis court surfaces is one of the biggest and most common problems to overcome.  This becomes a fairly constant maintenance issue for court owners and facility maintenance crews.  Even after a tennis court contractor performs crack repair and tennis court resurfacing, most structural cracks are likely to reopen within days, weeks, months, or if you're lucky…years.
SportMaster Sport Surfaces manufactures many different tennis court crack repair products to fill and seal cracks on pavement and sport surfaces.  No crack repair products are permanent, but SportMaster produces some of the best crack filling products available.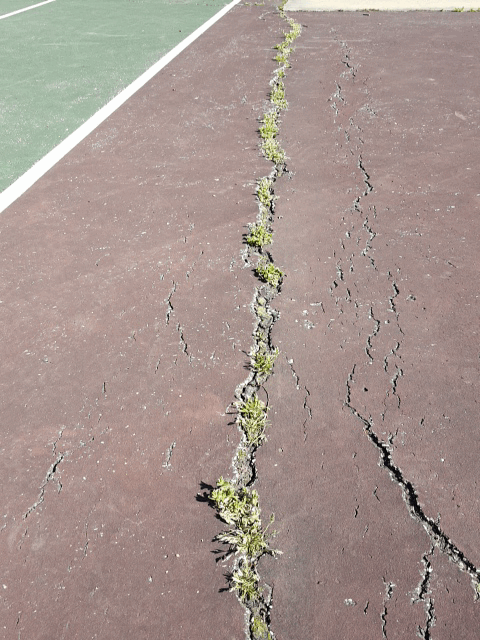 Ready to Use | Tennis Court Crack Filler
Tennis court surfaces are 100% acrylic, water-based coatings.  They come in a variety of colors, and so should tennis court crack fillers. SportMaster offers 3 different ready to use, 100% acrylic crack fillers for tennis, basketball, and other sport or game courts.  These crack fillers and sealants can be applied by contractors, maintenance crews, or even backyard court owners:
Acrylic Crack Patch
Acrylic Crack Patch is a trowel-grade crack filler.  It is heavily-fortified with silica sand to provide a consistent texture, similar to the acrylic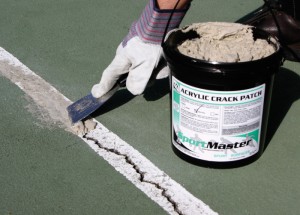 surface.  It has the best filling properties of all 3 ready to use crack fillers, due to the heavy amount of sand.  It is ideal for smaller cracks around 1/8″ in width, as well as larger cracks up to 1″ in width.  Acrylic Crack Patch sets up hard, but the acrylic binder does give it some flexibility.  As with all tennis court crack fillers, it is important to make sure the cracks are clean and free from debris and vegetation before applying.  Also, the cracks should be mostly dry when applying and for 24 hours thereafter.  For best results, apply all crack fillers at a minimum depth of 3/4″ deep to ensure the material has plenty of surface area on each side of the crack in which to adhere.  Acrylic Crack Patch is available in Green, Red, Blue, and Neutral.  The Neutral version can be tinted to blend into the current surface color.
CrackMagic – Rubberized Acrylic Crack Sealant
CrackMagic is a flexible, or elastomeric, crack sealant by SportMaster.  It was formulated with a very strong acrylic resin that exhibits rubber-like flexibility.  It has a tenacious bond to each side of the crack and works great in "freeze-thaw" environments, since the
pavement cracks open and close with hot and cold temperature shifts. This expansion and contraction is very hard on asphalt and concrete tennis courts, so keeping the cracks sealed with CrackMagic can extend the life of your court by reducing the amount of water that flows into the base. CrackMagic can be applied with a putty knife or trowel, and it ideal for cracks up to 1/2″ wide.  CrackMagic is available in Green, Red, and Neutral colors.  The neutral version can be tinted to blend into the current surface color.
CourtFlex | Pourable Tennis Court Crack Filler
CourtFlex is a flexible tennis court crack filler that is best on cracks 1/2″ or less.  It comes in a 1-gallon jug with a spout that can be cut to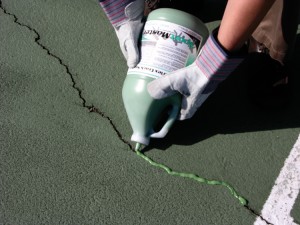 the desired size, and poured into the crack from the bottle.  This is very easy to use and apply.   CourtFlex pourable tennis court crack filler is available in green, red, and neutral colors.  The neutral  version can be tinted to blend into the existing surface color.  Since CourtFlex is a lighter-bodied, pourable crack sealant, it may slightly sink into the crack after the first application.  If this happens, you can apply another bead directly on top in order to bring it level with the surface.
If you have any questions on tennis court crack repair or are in need of crack filling products or tennis court contractors, fill out the "contact us" form on this page or call (800)395-7325 for the location nearest you.