Receive free estimates on tennis court resurfacing & repair in Spokane & eastern WA.   Our experienced tennis court contractors are trained in all phases of sport surfacing and repair.  Here are just some of the routine maintenance items performed by our installers:
Tennis Court Crack Repair
Pressure washing and tennis court cleaning
Playing line layout and striping
Tennis court resurfacing, and other games like basketball & pickleball courts.
Tennis court construction
Puddle removal and leveling.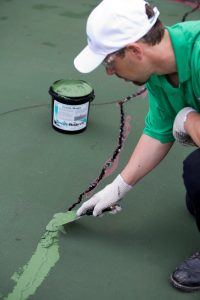 Tennis Court Crack Repair | Spokane WA
A common problem with asphalt or concrete tennis court surfaces is cracking.  Even a surface that is properly built will eventually crack. This can happen from shifting or movement in the sub-base, intrusion by tree roots, freeze-thaw, or other reasons.  Our installers are experienced in various crack repair methods from traditional acrylic patching compounds to specialized membrane crack repair systems.  Contact us if you would like quotes on tennis court crack repair near Spokane & eastern WA.
Tennis Court Resurfacing | Spokane WA
After the crack repair and puddle leveling is done, it is time to resurface the tennis court.  The first coating is a filler and texture coat called Acrylic Resurfacer.  This product contains up to 15 pounds of a larger silica sand and is designed to hide repairs, perform minor leveling, and re-texture the court surface.  On new pavement, it is needed to fill pavement voids and create a tight non-porous surface.  Shown here is application of Acrylic Resurfacer: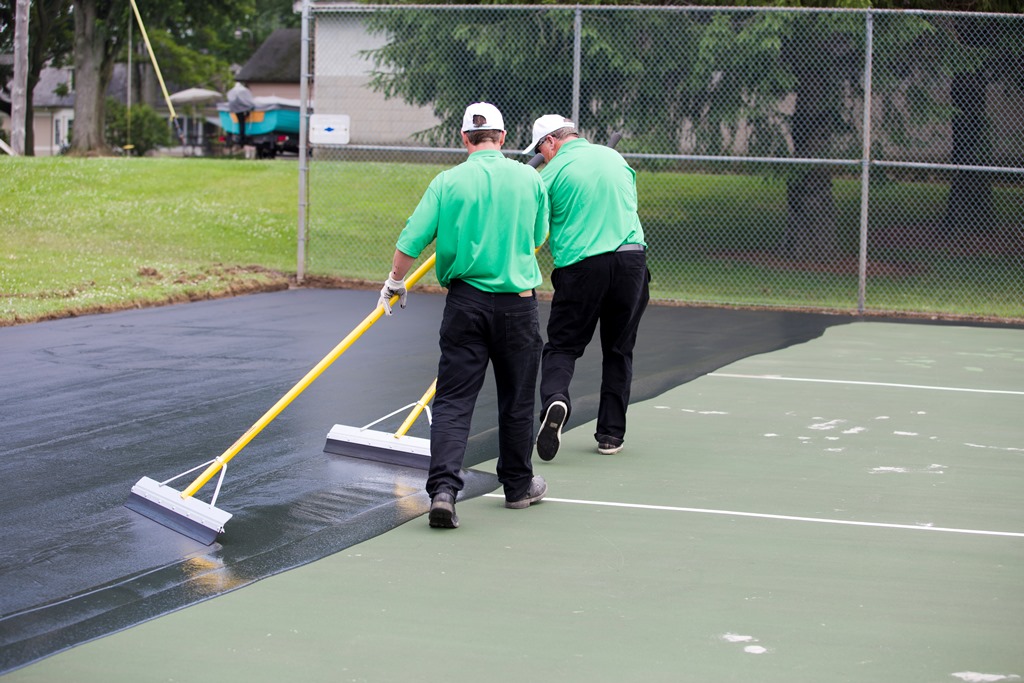 Tennis Court Paint | Spokane WA
SportMaster is a leading producer of acrylic sport surfacing and repair products.  We have tennis court paint in Spokane WA, as well as recommended installers that can apply our coatings and repair products.  From colored surface coatings to line paint, we can cover your courts!
Tennis Court Contractors | Spokane WA
Tennis court construction & resurfacing is a specialized field. Regular painting companies or handyman services don't generally handle tennis court resurfacing.  Sport surfacing is performed with specialty squeegees and trained applicators.  Also, asphalt and concrete courts usually need crack filling, puddle leveling, and other surface repairs before painting.  As a manufacturer of tournament-quality sport coating systems, we can help by providing customized project specifications and qualified applicators.  Contact us today for more information and assistance.