Contact us today to set up your free site visit and estimate for new construction or tennis court resurfacing & repair in Phoenix Arizona.  Our qualified installers work in Phoenix AZ and throughout the state of Arizona.  Here are just a few of the more common sport surfaces we can provide:
Racquet Sports: Tennis, Pickleball, and Badminton Courts
Basketball and Multi-Sport athletic and recreational surfaces
Playground and game courts
Driveway basketball and pickleball sports courts
Specialized asphalt color coatings for driveways, parking lots, amusement parks, zoos, etc.
Green bike lanes and jogging paths
How much does it cost to resurface a tennis court in Phoenix, AZ?
The average cost range to resurface a tennis court in Phoenix AZ can range between $6,500 to $8,000.  The most common variables that affect the range of cost are:
Surface repairs: crack filling and repair, birdbaths or puddle leveling, and additional surface damage.
Additional court surface cleaning: removal of mold, mildew, and surface stains.
Tennis court resurfacing colors and premium options, like adding layers for cushioning.
Additional lines for multiple sports: blended lines for tennis, pickleball, basketball, or any other sports.
To get a free quote, fill out our contact form and we can put you in touch with a court builder or resurfacing contractor right away.
Tennis Court Crack Repair | Phoenix AZ
There are a variety of methods available for tennis court crack repair in Phoenix AZ.  The most common application is Acrylic Patch Binder patching mix.  This is an acrylic binder that is job-mixed with portland cement and sand to create a slurry.  The sport contractor will apply the patch binder mix with a trowel, putty knife, or v-shaped squeegee.  Once the material dries completely, it can be scraped or sanded to make a smooth surface transition, prior to resurfacing.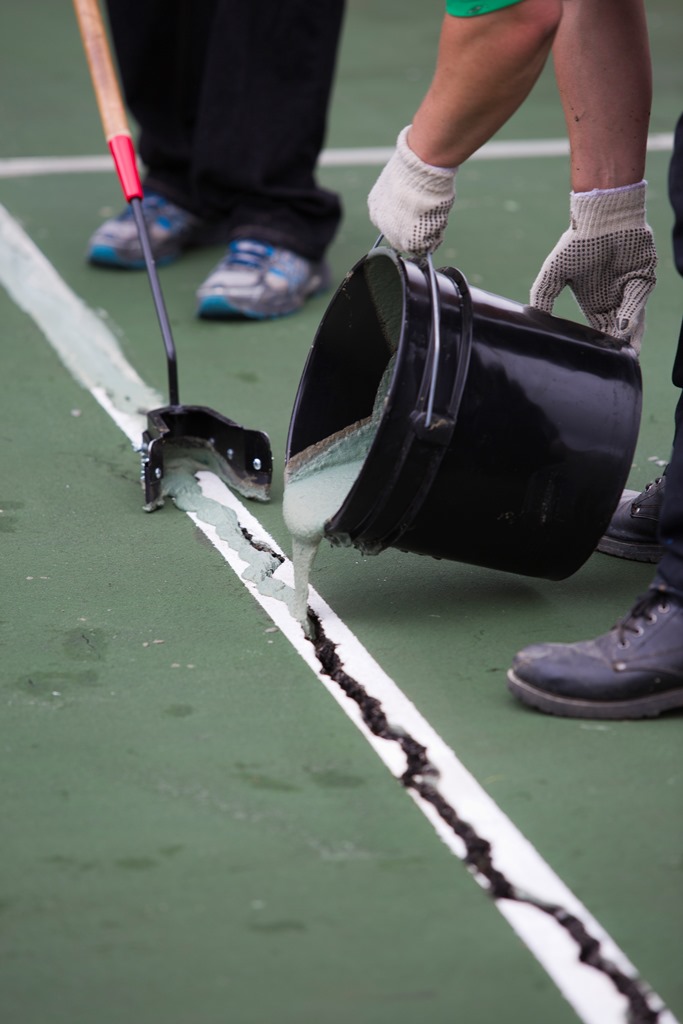 Once an asphalt or concrete court develops cracks, it is a maintenance issue and the cracks can come back quickly.  This all depends on the base under your court and how much movement is happening with temperature swings.  SportMaster also produces some ready-to-use tennis court crack fillers, that are easy to apply by court owners and maintenance crews.  This is recommended to minimize moisture penetration into the cracks that can disturb the base and speed up destruction of the slab.
Many professional sport surfacing contractors also install other crack repair systems that consist of membranes or other patented fabrics that can conceal the cracks.  However, construction or re-construction may be the only option in some cases.
Phoenix & Surrounding Locations | Tennis Court Resurfacing
SportMaster installers provide free estimates for tennis court resurfacing in Phoenix and surrounding areas, including but not limited to:
Mesa, AZ
Scottsdale, AZ
Glendale, AZ
Tempe, AZ
Chandler, AZ
Gilbert, AZ
The Greater Phoenix Area