SportMaster products are used for tennis court resurfacing and repair in Nevada.  Whether you have an existing court in need of crack repair or resurfacing, or are looking for free quotes on new tennis, basketball, or picklball court construction, we can provide you with qualified local contractors throughout Nevada.  Just click on "contact us" and fill out the short form and we will connect you with factory authorized installers that will provide free quotes.
SportMaster installers can provide many options when it comes to tennis court repair. Here are a few of the common fixes:
Tennis court crack repair
Tennis court resurfacing
Crack filler and specialized membrane crack repair systems
Puddle removal and leveling
Tennis court patching
Power washing or tennis court cleaning
Net post installation and repair
Pickleball Court Construction & Surfacing | Nevada
Looking for qualified installers for pickleball court construction & surfacing?  SportMaster can provide you with referrals to experienced sport contractors that work in Nevada.  We have surfacing systems designed specifically for the sport of Pickleball.  Our PickleMaster system is the official playing surface of USA Pickleball (the governing body of the sport).  It will provide you with a vibrant, long-lasting surface with the ideal texture for pickleball.  Some athletic coatings are too slippery or too aggressive, but PickleMaster is factory-mixed with a specific rounded texture package to provide safe traction without chewing up the plastic pickleballs.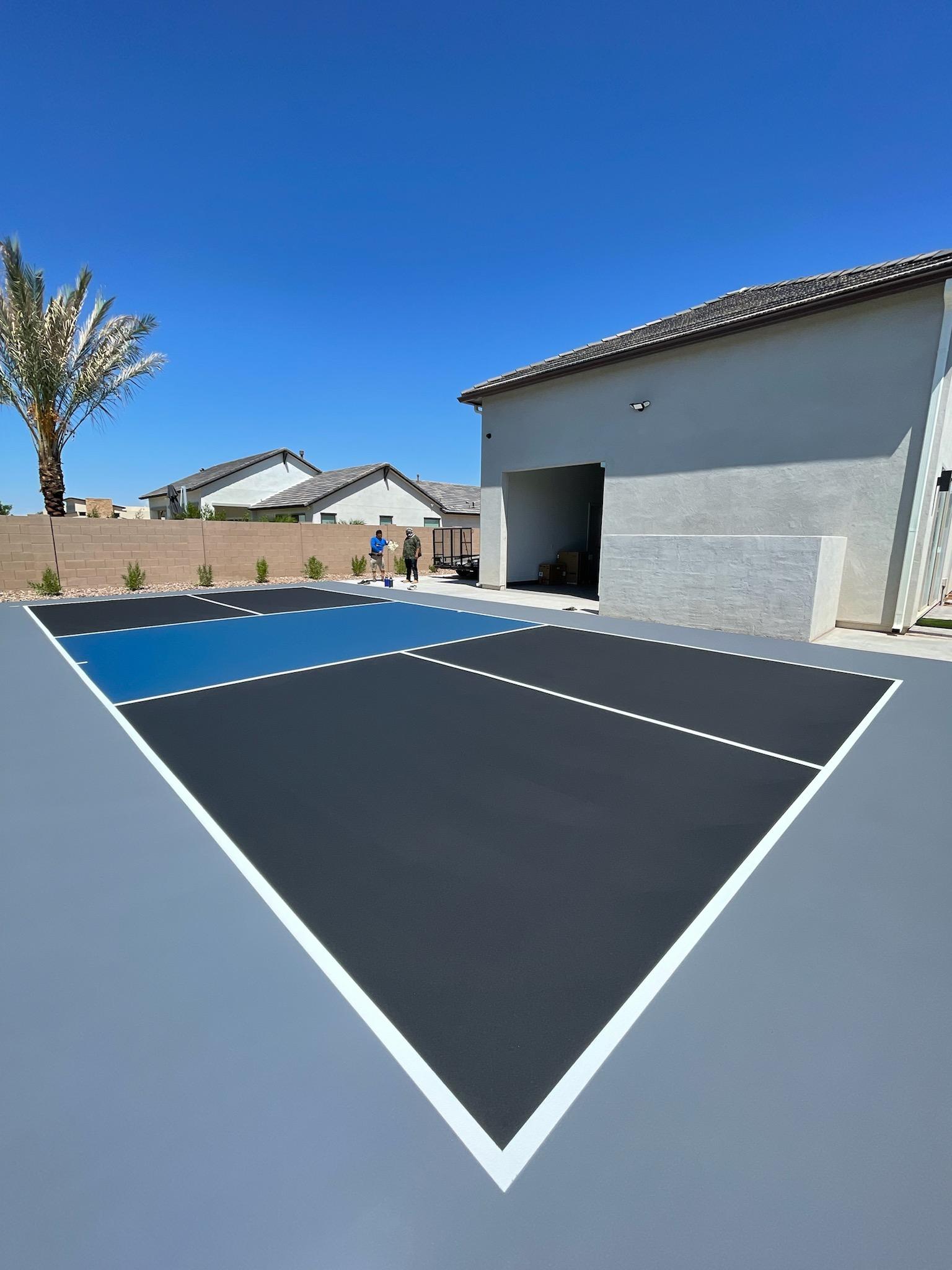 Tennis Court Resurfacing | Nevada
SportMaster tennis court surfaces are installed by qualified tennis court contractors throughout the state of Nevada.  Our 100% acrylic sport surfaces are made to withstand the harsh sun and climate of Nevada, while providing beautifully vibrant color choices for your tennis, basketball, or pickleball court.  The tennis court resurfacing process restores the court surface to "like new" condition, and provides a spin-responsive texture for safe play.
Tennis Court Contractors | Nevada
If you are planning to have resurfacing or repair work done on your tennis or sport court, contact us and we can help you find experienced tennis court contractors in Nevada.  Don't settle for just any painter or asphalt company when having your court built or resurfaced.  Tennis court construction is a specialized task and should not be performed by just any asphalt or concrete company.  Be sure to qualify their company and check references to make sure they have experience with tennis, pickleball, or similar sport surfaces.  As the surface coating manufacturer, we can recommend companies with a long history of success and experience.  Reach out to us today, for authorized applicators throughout the state of Nevada.
Service Areas in Nevada
Our installers work throughout the state of Nevada.  Here is a partial list of preferred areas:
Henderson, NV
Paradise, NV
Enterprise, NV
Nelliis AFB
Summerlin South
Reno, NV
Sparks, NV
Carson City, NV
Incline Valley, NV