Is it time to resurface your tennis court in Seattle or Tacoma WA?  SportMaster is a manufacturer of 100% acrylic tennis court surfaces and we have experienced installers in the Seattle, Tacoma, and Western Washington area.  Our tennis court contractors are factory authorized in tennis court crack repair, puddle removal, and resurfacing.  Here are a few other common procedures that can be performed:
Tennis Court Construction
Pickleball Court Construction and Resurfacing
Striping (Tennis, Kids Tennis, Basketball, and Blended Lines)
Fencing, Lighting, and Shade Structures
Installation of accessories like tennis net posts, pipe anchors, center straps, and back boards
Roller Hockey, Skateboard Surfaces, and Roller Derby Tracks
Multipurpose games courts, Playground Surfacing, and all Athletic and Recreational Surfaces
How Much Does it Cost To Resurface a Tennis Court in Seattle and Tacoma?
It normally costs somewhere between $4000 to $8000 to repair and resurface a tennis court in Seattle, Tacoma, and Western Washington. Depending on the severity of asphalt or concrete cracks, low spots or puddles, and cleaning required, this cost range should fit for most situations.  If you would like a free quote from an experienced sport surfacing contractor, fill out the form on this page and we will help to set up your free consultation.
Tennis Court Color Combinations in Seattle and Tacoma WA
SportMaster has 16 standard tennis court colors to choose from, and you can try many combinations by checking out the SportMaster court designer.  This tool allows you to select your inside and outside court colors and see how that compliment each other.  From popular combinations like blue and light green, to traditional red and green, SportMaster has more standard colors than any other brand.  Check out ColorPlus Orange for a brighter and cooler surface!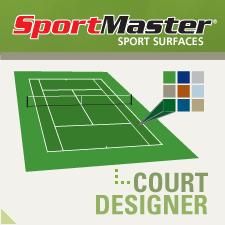 Pickleball Court Construction and Resurfacing in Seattle and Tacoma
Our tennis court builders and resurfacing contractors are well trained in building and surfacing Pickleball courts.  Pickleball is one of the fastest growing sports and is extremely popular in Seattle and Tacoma WA.  Pickleball courts require much less space than tennis courts, but are built and surfaced with the same materials as tennis courts.
We look forward to hearing from you and answering any of your questions.  Fill out the contact form on this page and we will get back with you very soon.