Is it time to resurface your tennis court?  Click on the red contact button and provide your contact information and we will put you in touch with local qualified tennis court contractors.  Our experienced installers perform tennis court resurfacing in Amarillo TX and throughout the panhandle of west Texas.
Tennis Court Repair | Amarillo TX and Panhandle
Our qualified tennis court contractors install SportMaster 100% acrylic repair and surfacing systems.  Prior to surfacing, they perform tennis court repair that is best suited for the climate and conditions of Amarillo TX and the panhandle.   The following list of repairs are commonly involved:
Tennis court crack filling or sealing
Membrane crack repairs
Tennis court patching
Tennis court puddle repair or leveling (birdbath repair)
Pressure or power washing (cleaning)
Mold, moss, mildew removal
Net post install or repair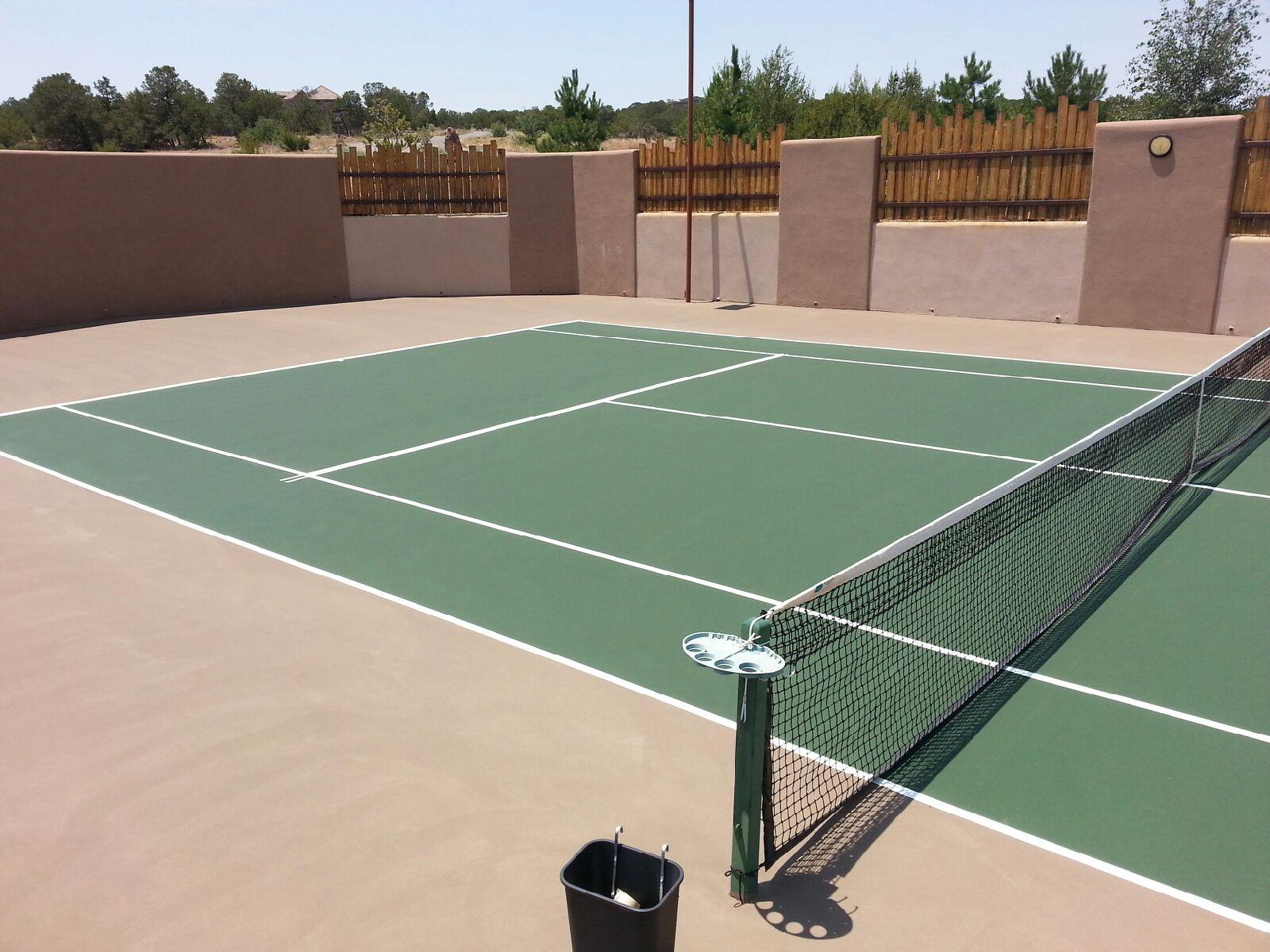 Tennis Court Construction | Amarillo TX and Panhandle
SportMaster tennis court contractors can also provide tennis court construction services in Amarillo TX and throughout the panhandle. So if you don't currently have a backyard tennis court and would like to set up a site visit and free estimate, just fill out the contact form and we will put you in touch with someone shortly. Other popular backyard and residential courts include:
Pickleball Courts
Basketball Courts
Multipurpose and game courts
Sports courts
Roller hockey, Skateboard, and other roller sports
You can also have a multi-sport court built, in order to maximize your space.  For example, you can have a full tennis court with white lines and have the contractor paint different colored lines for basketball or other sports.  This is called "blended lines".  Many people are blending lines for kids tennis, also called 10 & under tennis, pickelball, and other game courts on their tennis court.
Tennis Color Color Combinations | Amarillo TX and Panhandle
SportMaster has 16 standard colors to choose from, which leads to lots of different color combinations.  Whether you are looking for traditional colors like red and green or your favorite school or team colors, the choices are plenty.