Tennis court crack repair and resurfacing in Richmond Virginia is best handled by experienced, local tennis court contractors.  Don't call a painter or asphalt contractor to get the same level of knowledge that a tennis court builder or resurfacing professional can provide.
As a manufacturer of tennis court surfaces and sport coatings, we realize that it is difficult to find qualified tennis court contractors when you don't know what to look for and what questions to ask.  SportMaster can help you find the best tennis court builders and contractors in the Richmond area or near your tennis court facility.  We can also provide you with a customized tennis court repair and resurfacing specification, so that you know what steps should be performed and what products should be used.  This will enable you to get "apples to apples" quotes and have piece of mind that you are getting what you pay for and expect.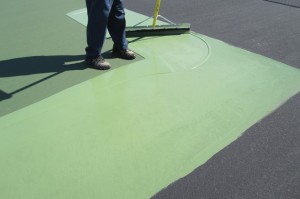 Tennis Court Resurfacing in Richmond and Central Virginia
Is it time to resurface your tennis court?  SportMaster tennis court resurfacing and repair products are stocked and locally supported in Richmond and central Virginia.  When properly applied, SportMaster tennis court resurfacing systems should provide ultimate performance and aesthetics to your court surface for 5 to 8 years.  Looking for a premium tennis court surface?  SportMaster also overs cushioned tennis court surfaces to provide a softer, more comfortable player experience.  For more information and details, visit our SportMaster ProCushion page.
If you would like to set up a site visit and obtain your free tennis court repair, resurfacing, or construction quote, fill out the contact form on this page.  You can also contact a SportMaster representative at the following location in Richmond VA.
SealMaster of Richmond and Central Virginia
8368 Old Richfood Road
Mechanicsville, VA 23116
Local Phone: (804)569-0490
www.sealmasterrichmond.com 
Available Tennis Court Color Combinations | Richmond and Central Virginia