Get free estimates on tennis court resurfacing & repair, with SportMaster in Bakersfield and Central California.  We can refer  you to qualified sport surfacing contractors that apply our sport coating systems.  Just let us know the general scope of your project, and we can provide you with local referrals.
Here are some of the most common sport surfaces that we produce, and stock in Bakersfield:
Tennis Court Surfaces
Pickleball Court Surfaces
Coating systems for roller sports, like Roller Hockey, Skateboards, Roller Derby, and more
Playground coating systems
Running Track Surfaces
Durable color coatings for colorscapes, driveways & parking lots, and featured specialty areas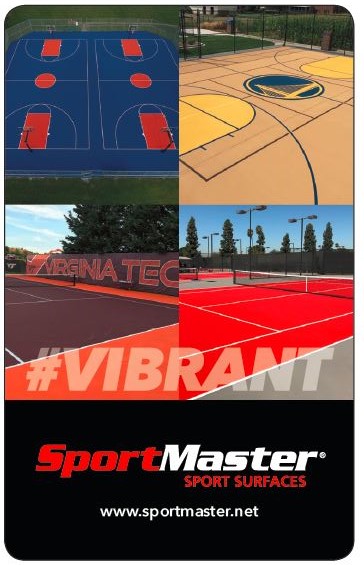 Pickleball Court Paint | Bakersfield & Central CA
We stock specialized, textured acrylic coating systems for many different sports.  Pickleball court paint is one of the most popular requests,  due to the extreme growth of the sport.  We can assist in providing free project surfacing specifications, installers, or color schemes.  Not sure how you would like your new pickleball court to look?  Check out the SportMaster Pickleball Court Designer page.  You can play around with all of the available standard colors, and come up with your favorite color combination.
Tennis Court Construction | Bakersfield & Central CA
Don't have a tennis court, but would like to find out how much it would cost to build a tennis court?  We can help!  Just let us know your general location and we can connect with a tennis court builder who can set up a site visit and provide you with an estimate.  Feel free to click on the contact us button, or give us a call.
SportMaster Sport Surfaces of Bakersfield
518 Sumner St
Bakersfield, CA 93305
(346) 226-7325
Tournament Quality Sport Surfaces | SportMaster
SportMaster is a leading brand of 100% acrylic sport surfaces.  Multiple professional tournaments choose SportMaster as their official playing surface, including but not limited to:
Citi Open – Washington DC (ATP 500 series, WTA International & US Open Series, Pro Tour Event)
Rogers Cup – Montreal, Quebec Canada (ATP 1000 Masters & US Open Series, Pro Tour Event)
Atlanta Open – Atlanta, Georgia (ATP 250 Series & US Open Series, Pro Tour Event)