Are you looking for free estimates on tennis court repair, resurfacing, or construction in Los Angeles?  We can help..  SportMaster is a leading brand of acrylic tennis court surfaces and repair products. We have multiple stocking locations in Southern California and local representatives that can provide a free scope of repair, and quality tennis court contractor referrals.
Tennis Court Resurfacing in Los Angeles
What is the recommended process of tennis court resurfacing in Los Angeles?  It is pretty much the same in any area.  Here is a general outline:
On New Concrete:
Concrete should cure for 28 days before coating and have a slope of 1% for proper drainage. No curing compounds shall be used on the concrete and it is highly recommended to have a vapor barrier and good perimeter drainage system.
It is also important to have a medium-broom finish for good physical adhesion of coatings.
Acid etch to neutralize alkalinity of concrete surface and provide good chemical bond of coatings.  Wash thoroughly with clean water, then  apply 1 coat of SportMaster Acrylic Adhesion Promoter.
Apply one to two coats of SportMaster Acrylic Resurfacer to fill broom finish or  re-texture an existing acrylic surface
Apply two coats (minimum) of the SportMaster ColorPlus system.  This consists of 2 coats of "tennis court paint", fully pigmented and mixed with sand and proper dilution.
Stripe with SportMaster Stripe-Rite Line Primer & Textured White Line Paint.
If the court is existing or needs any cracks filled or puddle repair, SportMaster Acrylic Patch Binder can be used. This is an acrylic binder, mixed on-site with Portland Cement & Silica Sand.  Here is a short video clip that explains further:
The tennis court repair and resurfacing process can be very difficult and is not recommended at the "DIY" level. It takes a lot of training and practice to repair and level surface repairs without affecting the slope of the court and potentially leaving a larger puddle or pond.  Contact your local SportMaster representative at any of our Los Angeles or Southern California locations, and they can provide great local contractor referrals that can visit your site and give free estimates.
SealMaster of Los Angeles – Distributor of SportMaster Sport Surfaces
4600 Littlejohn Street
Baldwin Park, CA  91706
Local Phone (626) 338-7121
Toll Free (877) 331-7325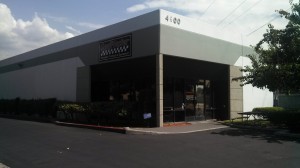 Tennis Court Surfaces | Southern California & Los Angeles
SportMaster tennis court surfaces are stocked and supported throughout Los Angeles and the entire southern California region. Our qualified contractors repair, resurface, and build courts within the entire area, and we currently have 5 locations where materials can be purchased:
Baldwin Park, CA (Near Covina & Pasadena)
Sun Valley, CA ( Burbank & Glendale area)
Orange , CA (Serving Anaheim, Santa Ana, Irvine, and more)
San Diego, CA
San Marcos, CA