SportMaster Sport Surfaces are distributed, worldwide, through the SealMaster franchise system.  There are locations in MA to support local tennis court contractors, architects/specifiers, and end-users.  Our Massachusetts locations stock tennis court crack filler and repair products, puddle repair and patching materials, and application tools for professional installers.  We also stock tennis court coatings for tennis court resurfacing in Massachusetts, like Acrylic Resurfacer (both black and neutral) and a wide variety of tennis court colors: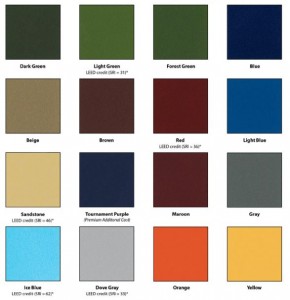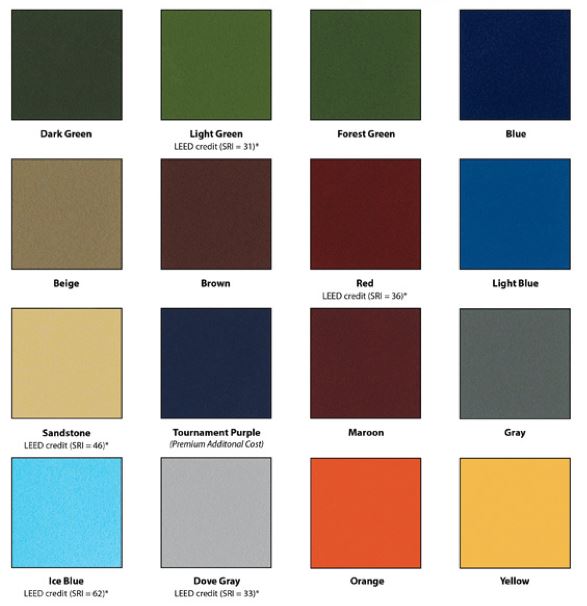 Tennis Court Builders and Contractors in Massachusetts
Looking for experienced tennis court builders and contractors in Massachusetts can be a difficult task.  As a tennis court coating manufacturer, we can help to recommend qualified tennis court builders and resurfacing contractors for your home/backyard, school/college, or professional tennis court project.
Residential and Backyard Courts in Massachusetts
A great and healthy investment for you and your kids is a residential or backyard court.  Not only can you have a backyard tennis court, but the tennis court contractor can stripe it for multiple sets of lines for other sports like basketball, pickleball, kids tennis, and much more.  This is also known as "blended lines".  Ideally, the tennis court is striped with standard white lines, and the other games can be striped with a complementing color of line paint.  For example, if the tennis court surface is light green, basketball lines can be applied in dark green.  This shows very well, and doesn't confuse the eye when playing tennis.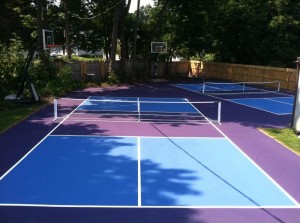 Pickleball Court Construction & Surfacing in Massachusetts
Pickleball court construction and surfacing in Massachusetts is becoming increasingly popular.  SportMaster tennis court surfaces work great as the surface for all racquet sports including tennis, pickleball, paddle tennis, and badminton. Fill out the contact form on this page to schedule free estimates on construction, repair, and resurfacing of a tennis, pickleball, or multi-sport court of any kind in Massachusetts.
[show-contactus.com-form formkey="YTlmNTE1YzQ0Yg,," version="tab"]