Tennis Court Crack Filling & Repair in Boston and Cape Cod MA
Tennis court cracks in Boston and Cape Cod can be a real problem. The extreme weather creates a variety of enemies for asphalt and concrete tennis court surfaces.  Penetration of moisture that freezes and thaws can work to ravel the aggregate that makes up pavement.  Once cracks open up on the surface, it is very important to keep the cracks sealed off with an acrylic tennis court crack filler.  This minimizes the flow of water into the tennis court surface and base.

Crack Repair Membrane Systems in Boston & Cape Cod MA
Most of our tennis court contractors in Boston and Cape Cod use patented tennis court crack repair membrane systems under certain conditions.  These membrane systems cost more than traditional acrylic crack filler, but can conceal major cracks and extend the life of your tennis court surface.  Qualified tennis court contractors can provide free estimates on tennis court crack repair and offer guidance on what tennis court crack repair products work best in Boston, Cape Cod, and on your tennis court.
Court Color Combinations: Tennis, Basketball & Pickleball
SportMaster has 18 standard color choices for tennis, basketball, pickleball or any other athletic & recreational sport surfaces.  All 18 standard colors are available for all of our sport surfacing systems:
ColorPlus System for tennis, basketball, pickleball, etc.
SkateMaster System for inline roller hockey, skateboarding and many other roller sports
TrackMaster Plus System for running and jogging track areas
ColorPave system for many other colored asphalt applications
Starting in 2019, SportMaster has over 100 new color choices, which are part of the ColorPlus Fusion System.  For more information, visit www.sportmaster.net – There will be forthcoming color charts where you can see all of the additional colors.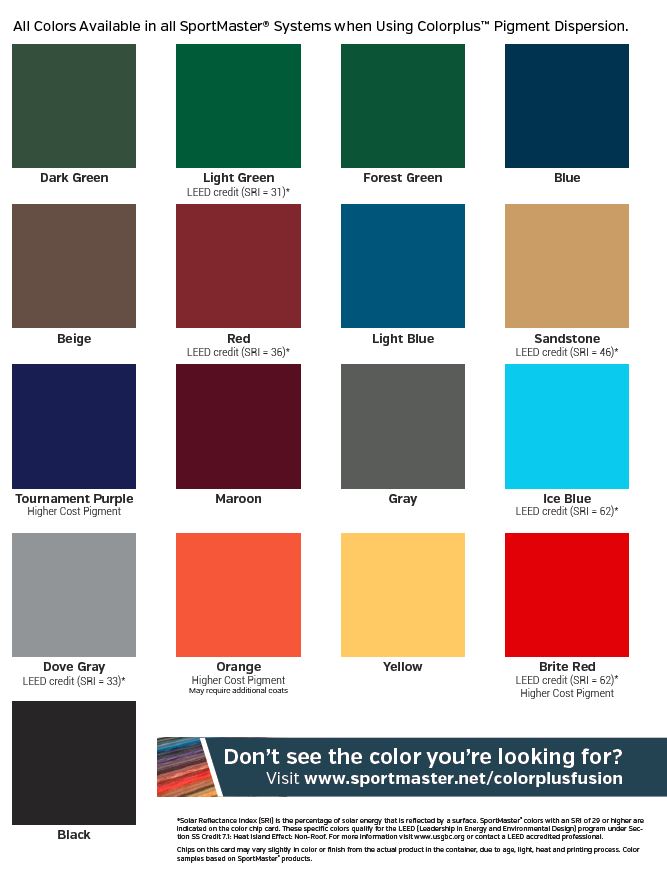 Tennis Court Resurfacing in Boston & Cape Cod MA
It is equally important to make sure your tennis court surface is in good condition.  Not only do tennis court coating systems provide proper characteristics for tennis play, but they also protect asphalt, concrete, and most importantly, your investment.  Asphalt pavement usually consists of only 6% binder, and the rest is mostly specifically graded rock and aggregate.  Tennis court resurfacing products act as a premium sealer and prevent penetration of surface water and protect against other environmental damage.  If you would like a free estimate from an affordable and qualified tennis court contractor, fill out the contact form on this page and we  will put you in touch with a professional that performs tennis court resurfacing in Boston and Cape Cod.
Service Areas | SportMaster Sport Surfaces
Our installers handle the entire state of Massachusetts, including but not limited to:
Cape Cod
Nantucket Island
Franklin, Woburn, Amesbury
Marlborough, Watertown, Newburyport
Waltham & Braintree
For more information, feel free to contact us directly at SealMaster of Massachusetts (Servicing Boston, Cape Cod, and all of MA)
SealMaster of Boston
110 Blackstone River Road
Worcester, MA 01607
Local Phone: (508)926-8080
www.sealmasterboston.com