Tennis Court Resurfacing & Repair in Allentown is just a click or phone call away.  We can connect you with trained tennis court contractors that apply SportMaster brand of tennis court surfaces.  A qualified sport surfacing contractor will set up a meeting to look at your existing court and provide a free estimate on recommended preparation, repairs, and resurfacing.
Tennis Court Crack Repair & Puddle Removal
The first step in the evaluation process is to see what size and how many feet of cracking is on the tennis court surface.  A SportMaster representative, or the contractor, can provide recommendations on what kind of crack repair is best suited to repair the cracking, based on the local climate and weather conditions in Allentown and eastern PA.
It is also important to address puddle or ponding areas, also referred to as "birdbaths".   The rule of thumb, per the American Sports Builders Association (ASBA) is: An hour after a rain, or after flooding the court surface, if the water in the puddle covers the head of a U.S. nickel, it needs to be filled.  The product for this is SportMaster Acrylic Patch Binder.  During the evalution, the tennis court contractor will measure the length, width, and depth of all birdbaths to be filled so they can provide a complete repair estimate.  Here is a short video on puddle or birdbath repair:
Tennis Court Resurfacing | Lehigh Valley
The SportMaster ColorPlus System is our recommended choice of tennis court resurfacing system in the Lehigh Valley region and throughout Pennsylvania.  The 100% acrylic color coatings are extremely durable to the harsh winters and equally fade-resistant to the hot summer sun.  After surface cleaning and repairs, the standard system is:
Acrylic Resurfacer – 1 coat on existing acrylic surfaces, and 2 coats on new asphalt tennis or basketball courts. This is a filler, texture, and primer coat.  It fills voids in asphalt or re-textures slick, existing color coatings to prepare the surface for the colored tennis court surfaces.  Also, helps to hide crack and low spot repairs.
SportMaster ColorPlus System – 2 coats minimum, or additional coats for extended wear or heavy use.  This is a fully pigmented and textured color coating system.  Available in 16 standard colors, including the Light Green & Blue combination, which is very popular in Allentown and the Lehigh Valley.  Click on the following icon to view the range of tennis court color combinations: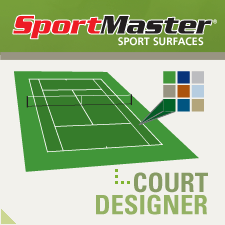 For more information and qualified contractor referrals, contact your local SportMaster representative at:
SealMaster of Allentown (Servicing the Lehigh Valley and all of Central & Eastern Pennsylvania)
6853 Ruppsville Road
Allentown, PA 18106
Local Phone: (610)530-8788
Toll Free: (888)567-8899
www.sealmasterallentown.com