SportMaster is a leading producer of acrylic tennis and athletic court surfaces.  We can help court owners find experienced sport surfacing contractors to provide free estimates on all phases of court construction, repair, and resurfacing.  Click on the free estimate button below, and we will provide you with qualified installers who perform tennis court resurfacing & repair throughout Kansas City, western MO, and eastern Kansas.
How Much Does It Cost To Resurface A Tennis Court in Kansas City?
The average cost to resurface a tennis court in Kansas City can range from $6,500 to $9,000.  This number greatly depends on the current condition of the court.  If there is excessive asphalt or concrete repairs that need to be made, the cost could potentially go up a bit further.  Also, if the surface is full of moss, mold, mildew, or other organic growth, it could also be on the higher end of the price range.  For an actual quote, an installer would need to take a look at the court and see what condition is it in.  Then, they can determine the best plan for preparation, repair, and resurfacing.
Tennis Court Crack Repair | Kansas City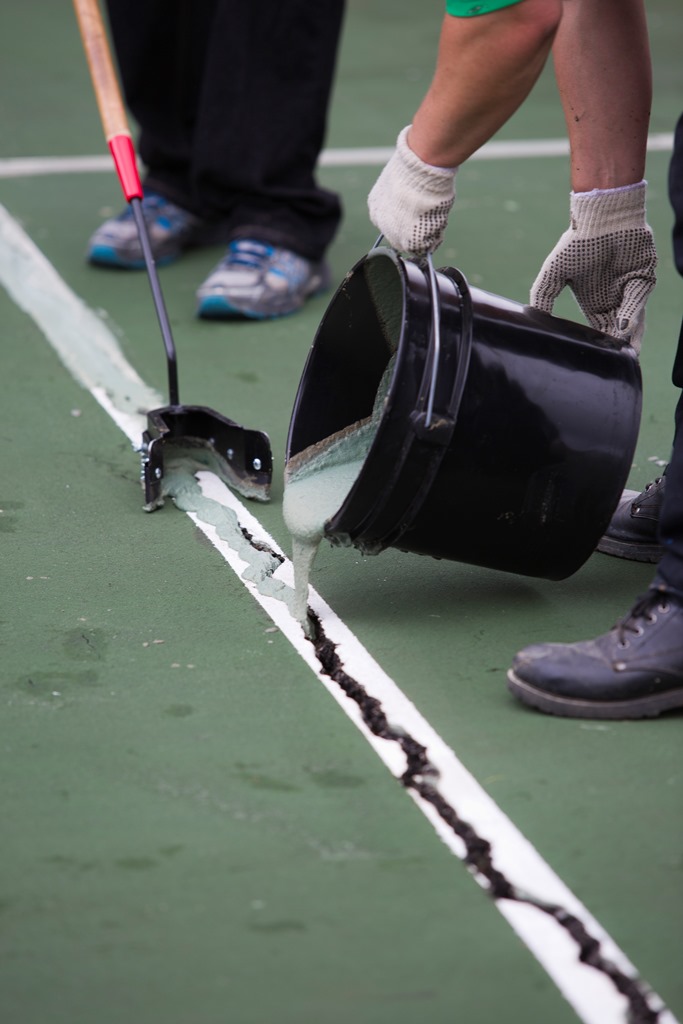 Is your court full of cracks or low spots that cause puddles?  If so, you are definitely not alone.  These are among the top two problems that occur with asphalt and concrete tennis court surfaces.  SportMaster produces acrylic crack repair products that you can use for maintaining cracks and to minimize intrusion of moisture.  This will help to prolong the life of the court.  We can also recommend installers that perform tennis court crack repair in Kansas City and surrounding areas.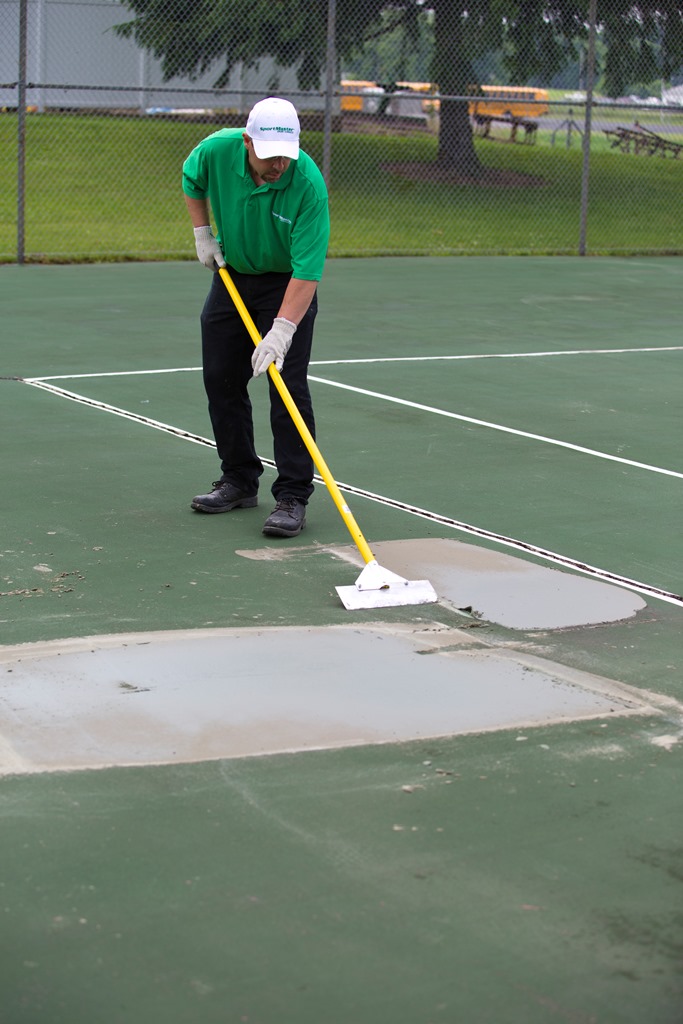 If you have low areas that collect water and create puddles, you need to have the low spots leveling with Acrylic Patch Binder mix. This product is best applied by qualified sport contractors and should be applied prior to resurfacing the court, for best results.
How to #paint a #Pickleball #Court – https://t.co/ms5xpSLSse

— SportMaster Tennis (@sportmasterweb) March 20, 2017
Athletic & Recreational Courts | Kansas City
Our local installers resurface and paint tennis courts, but also many other athletic & recreational game courts.  Here are a few more common sport surfaces that are commonly painted in Kansas City and western MO:
Pickleball Courts
Basketball Courts
Roller hockey, Skateboard parks, and Roller Derby (roller sports)
Multipurpose Courts
Playgrounds
Futsal, Soccer, Volleyball
Shuffleboard
For more information, or to get contractor referrals, email or call us today!