Tennis court resurfacing and repair in Oregon by experienced installers of SportMaster, 100% acrylic sport surfaces. Fill out the contact form on this page and we will set up a site visit and provide you with free quotes on:
Tennis court crack repair
Tennis court puddle removal and patching
Building a tennis court (tennis court construction)
Tennis court resurfacing (also known as painting a tennis court)
Tennis court line striping (full size and blended lines for kids, 10 and under tennis, pickleball, basketball, and other game lines)
Pickleball Courts in Oregon | What is Pickleball?
Pickleball is one of the fastest growing sports in the U.S. and Oregon is one of the many states leading the charge.  What is Pickleball?  Pickleball is somewhat similar to tennis, but with smaller courts and specific rules.  Instead of using tennis racquets, players use paddles and different balls, similar to a wiffle ball.
SportMaster manufacturers Pickleball surfaces that are ideal for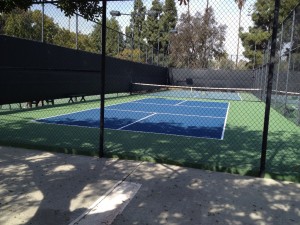 asphalt and concrete pavement.  These acrylic Pickleball surfacing systems come in 16 standard colors and are textured for safe, non-slip play.  If you are interested in building or resurfacing a Pickleball court in Oregon, contact us and we will put you in touch with an experienced building and resurfacing contractor near you.
Tennis Court Color Combinations | Color Schemes in Oregon
Our local tennis court builders and resurfacing contractors in Oregon can resurface your tennis court with many different colors to meet your needs. There are 16 standard colors to choose from, and lots of different color combinations and schemes. Our experienced Oregon-based contractors can also paint custom logos on our court surface.  Many people choose their favorite high school, college, or pro sport team logos and/or color schemes on their home or backyard courts. Choose from traditional color combinations, popular trends, or your own desired scheme.