The best tennis court builders and resurfacing contractors in the Mid Atlantic apply SportMaster tennis court surfaces and repair products. SportMaster has multiple stocking locations and local representatives throughout the Mid Atlantic region of the United States. Select your state and city through our menu to find the closest sport surfacing contractors and SportMaster locations. If your area is not shown, feel free to contact us and we will get back to you very soon, with all of your best options.
SportMaster Tennis Court Surfaces | Mid Atlantic
SportMaster tennis court surfaces are available at all SealMaster franchise locations throughout the Mid Atlantic region, and around the world.  The revolutionary SportMaster ColorPlus system makes it easy to choose from 16 standard colors and not have to wait very long  to have them available for your court .  The ColorPlus system consists of an unpigmented coating base that is mixed on-site with liquid, ColorPlus pigment dispersion gallons.  Sport Surfacing contractors don't have to wait weeks to get your preferred colors.  If they are not locally stocked, they can be shipped in a small box to arrive in a day or two.
Mid Atlantic Tennis Court Colors
Not sure what color combination you want on your tennis court?The good new is, there is not a wrong choice when it comes to selecting your tennis court colors.  Some people pick their high school or college colors, favorite sports team, or colors that compliment a house or surroundings.  The SportMaster court designer can help you to decide.  Just click on the icon below and a separate tab will open up in your browser.  Feel free to experiment with various color combinations on the outside and inside of the court, and see if you can find a favorite scheme.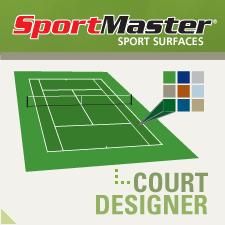 To find out more or set up a free consultation and receive tennis court repair, resurfacing, or construction estimates throughout the Mid Atlantic, fill out the contact form on this page.  We will be sure to get back with you quickly.