South Carolina tennis court resurfacing and repair is available through your local SealMaster store. The best tennis court contractors in South Carolina use SportMaster Sport Surfaces and are available for free quotes, upon a site visit and consultation.
Whether you are looking for tennis court repairs, resurfacing, or building a new tennis or basketball court, it is important for the contractors to evaluate the current conditions and issues before an accurate cost is provided.
Tennis Court Builders in South Carolina
Are you looking for qualified tennis court builders in South Carolina? It is important that you find an experienced sport surfacing contractor that knows the proper guidelines of tennis court construction and don't trust a company that is only experienced in paving driveways and parking lots.  The ASBA (American Sports Builders Association) has specific guidelines and specifications for properly building tennis courts that will last and not have common problems associated with tennis court surfaces:
Excessive or premature tennis court cracks
Paving seams that open up on the tennis court surface
Puddles, also known as birdbaths, and other drainage problems
If concrete, expansion joints that intrude into the playing area
Using incorrect paving mixes and aggregate sizes
Tennis Court Surfaces in South Carolina
SportMaster tennis court surfaces are stocked and supported throughout the state of South Carolina.  As a tennis court coating system manufacturer, we are here to to assist architects/specifiers, contractors, and court owners.  We can recommend qualified tennis court builders and resurfacing companies in South Carolina to court owners and facility managers.  It is important to select an experienced contractor that can handle your project and provide a competitive cost, without cutting corners and sacrificing quality.
Backyard Basketball Ball Court Surfaces | SC
SportMaster, and our local sport contractors, are also engaged in building and surfacing backyard basketball courts in South Carolina. From standard one-color, half basketball courts to full courts with custom logos and cool color schemes.
From stand alone tennis court basketball courts, to multi-sport tennis, basketball, and pickleball courts, there are many options to choose from with SportMaster court surfaces.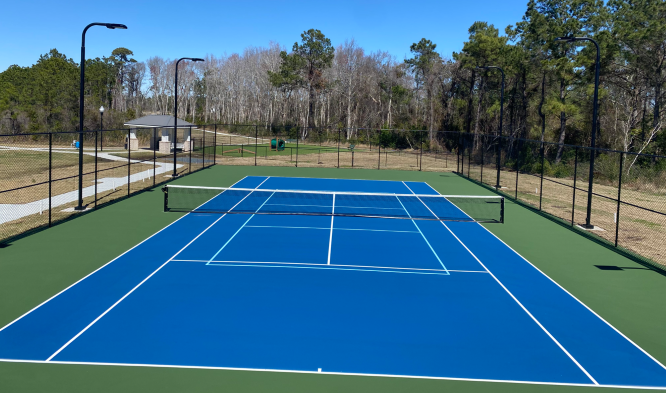 For more information and to setup your free consultation and basketball, pickleball, or tennis court repair, resurfacing, or construction estimates, fill out the contact form on this page.  Feel free to contact us directly at any of our South Carolina locations:
Columbia South Carolina
3203 Leaphart Rd.
West Columbia, SC 29169
Local Phone: (803) 939-9100
Toll Free: (855) 865-9100
www.sealmastercolumbia.com
Charleston South Carolina
3307 Biedler St., Suite B
North Charleston, SC 29418
Local Phone: (843) 760-2070
Toll Free: (855) 760-2070
www.sealmastercharleston.com
Myrtle Beach South Carolina
234 Daytona Street
Conway, SC 29526
Local Phone: (843) 331-3145
Toll Free: (855) 760-2070
www.sealmastercharleston.com
Greenville South Carolina
267 Lakewood Drive
Greenville, SC 29607-4930
Local Phone: (864) 277-3033
Toll Free: (877) 319-1444
www.sealmastergreenville.com