Tennis court resurfacing and repair is available by SportMaster authorized installers in Tulsa and Eastern Oklahoma.  Whether you need to have your tennis court repaired, resurfaced, or built from scratch, we can help.  Fill out the contact form on this page and we will put you in touch with experienced professionals that work in Tulsa and eastern OK, and can provide free estimates.
Tennis Court Builders in Tulsa & Eastern Oklahoma
If you don't have a tennis court and are thinking about having one built in your backyard or facility, don't just contact any paving or concrete company for a quote.  Tennis and basketball courts have more specific tolerances than a driveway or parking lot, and a qualified tennis court construction company is best suited to make sure it is built to last for many years without premature cracking or puddles.
Tennis Court Crack Filling and Repair | Tulsa & Eastern OK
Cracks in asphalt and concrete tennis courts are one of the most common problems.  If left open and unsealed, cracks can let water invade the base of the tennis court and make a bad problem worse. Our local installers can perform a free site visit and provide options for crack filling and repair.  Here are some common crack filling methods that are performed in Tulsa and eastern Oklahoma:
Trowel-grade acrylic crack filler
Elastomeric, or rubberized acrylic crack sealants
Acrylic Patch Binder patching mixes (contain portland cement, sand, and acrylic binder)
Multi-layer crack membrane repair systems
SportMaster Color Combinations in Tulsa & Eastern OK
Whether you are looking for traditional colors, popular schemes, or unique combinations, SportMaster has 16 available color choices.  If you want to play around with various color schemes and see how they look together, check out the SportMaster court designer: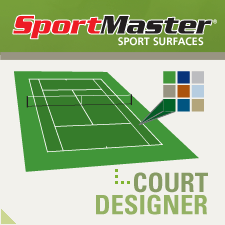 [show-contactus.com-form formkey="YTlmNTE1YzQ0Yg,," version="tab"]