Are you looking for the best tennis court resurfacing, repair, or construction companies in Georgia?  SportMaster can help by providing referrals to the best tennis court contractors in Georgia.
Tennis Court Surface Colors | Georgia
SportMaster tennis court surfaces offer the most tennis court color choices in the industry.  Choose from 16 different stanard color choices for your sport surface.  The most popular tennis court color combination in Georgia is SportMaster Light Green on the outside and Blue on the inside/playing area.  This combination provides a great contrast as the ball travels over the blue, plus it is aesthetically pleasing.  There are many players that also prefer the more traditional combo of Red and Green, solid green, or two-tone green.  There is not a wrong choice, so feel free to pick the one you like the best.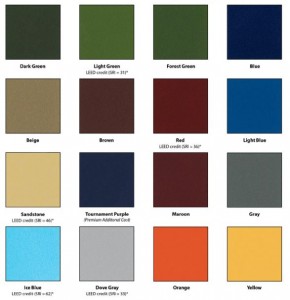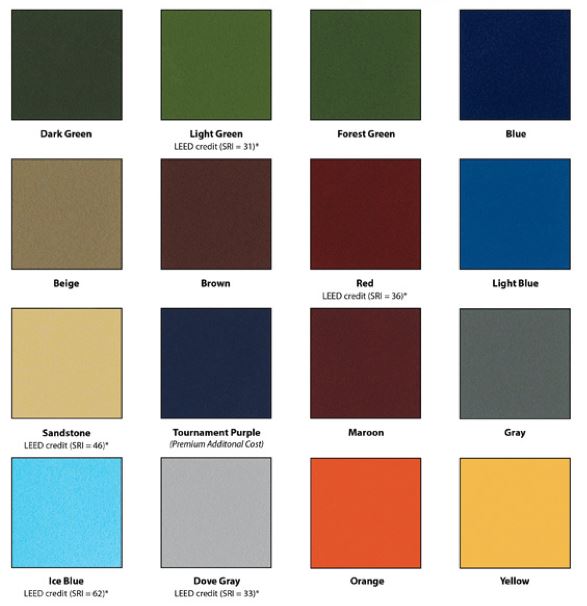 If the SportMaster color chart still doesn't help you to make a decision, try the SportMaster  tennis court designer.  This allows you to see any of the 16 colors to the inside or outside of a tennis court, in any combination, to see what colors look like together.
What is the best tennis court surface for a tennis club in Georgia?
Georgia is home to many swim and tennis clubs. There is a high volume of play at these clubs and you need a durable acrylic tennis court surfacing system to hold up to the continuous use.  One of the biggest mistakes is cutting corners and not applying all coats in the tennis court surface system.  After the courts are cleaned and all repairs are performed, it is important to apply Acrylic Resurfacer with the manufacturers recommended sand load, prior to application of the colored surface coatings.  Many times, contractors or end-users opt to skip this step and it can effect the longevity of the tennis court surfacing system.  For more information on why to use Acrylic Resurfacer, check out the article "Does my tennis court need Acrylic Resurfacer"? 
Finally, you want the tennis court contractor to apply a minimum of 2 coats of the SportMaster color system with sand in all coats.  The sand helps to provide non-slip texture, spin-responsive ball bounce, and thicker, longer lasting coats.  A third coat can be added for even more durability.  This system should get you 5 to 8 years, prior to the next resurfacing.
If you need help finding qualified tennis court contractors in Georgia, fill out the contact form on this page and we will get back with you quickly.
SealMaster of Atlanta Georgia
535 Frederick Court SW
Atlanta, GA  30336
Local Phone (404) 505-8888
Toll Free (800) 505-8818
www.sealmasteratlanta.com
SealMaster of Augusta Georgia
1255 New Savannah Road
Augusta, GA  30901
Local Phone (706) 303-7148
SealMaster of Duluth Georgia
3625 S. Peachtree Rd.
Duluth, GA 30096
Local Phone (770) 476-9110


SealMaster of Kennesaw Georgia
3098 Carter Circle
Kennesaw, GA 30144
Local Phone (770) 427-4564 [show-contactus.com-form formkey="YTlmNTE1YzQ0Yg,," version="tab"]