SportMaster is a leading producer of tennis court resurfacing and repair products, with over 80 locations in the U.S, including Albuquerque, New Mexico.  Local tennis court construction and resurfacing contractors prefer SportMaster for the ease of use and application in the hot and dry New Mexico climate.  Plus, SportMaster is the only brand that has a location in the state of NM and local representatives to answers questions and provide assistance to architects, specifiers, and owners.
Tennis Court Color Combinations | New Mexico
Tennis court coatings provide multiple benefits to an asphalt or concrete sport surface.  Here is a partial list:
Protection of the asphalt or concrete substrate from weather and elements
Provides safe, non-slip texture in wet and dry conditions
Multiple texture options to provide different speeds of play, in the game of tennis
Lighter colors can reflect the rays of sun, resulting in a cooler playing surfaces
Optional cushioned tennis court surfaces to provide softer and more comfort to players
However, one of the most popular reasons is for the pleasing aesthetic beauty.  SportMaster offers 16 standard tennis court colors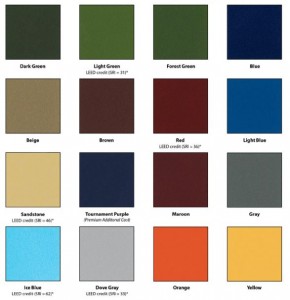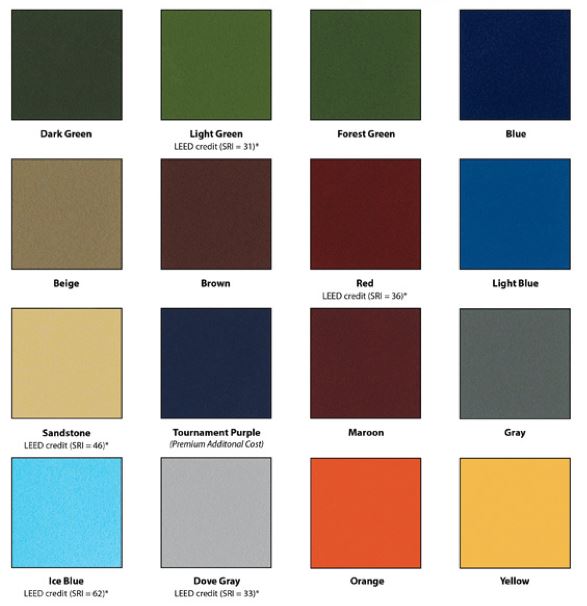 in NM. This creates the ability to achieve many tennis court color combinations in New Mexico, from favorite sports team colors to popular professional tournament colors.  ColorPlus Light Green and Blue has become the most popular color scheme throughout the state of New Mexico.
Tennis Court Paint | New Mexico
Most people refer to acrylic tennis court surfaces as "tennis court paint".   Acrylic sport coatings are 100% acrylic, just like many other house and industrial paints.  However, SportMaster tennis court paint is fortified with specialized pigments that can better withstand the UV rays of New Mexico, and still stay colorfast and vibrant for many years with minimal fading.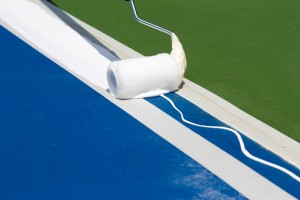 The textured white line paint is also formulated with high levels of bright white pigment for exceptional hiding, vibrance, and longevity.
Free Tennis Court Resurfacing Quotes in New Mexico
If you would like a free tennis court resurfacing quote in New Mexico, just click on the "contact us" button and we will put you in touch with experienced and affordable installers.  Your information will not be sold or added to any spammers.
For more information, you can also contact our New Mexico location directly:
SealMaster of New Mexico (SportMaster Sport Surfaces – Distributor)
5216 Wilshire Northeast
Albuquerque, NM  87113
(505) 822-8881
(800) 914-8834
[show-contactus.com-form formkey="YTlmNTE1YzQ0Yg,," version="tab"]