Tennis court resurfacing and repair in Utah, with SportMaster Sport Surfaces, is performed by experienced local tennis court builders and resurfacing contractors.  Fill out the "contact us" form on this page and we will put you in touch with qualified and affordable tennis court contractors that are trained on industry-standard resurfacing techniques and understand what works best in Utah.
SportMaster tennis court resurfacing and repair products are ideal for the weather conditions and climate in Utah.  Our vibrant tennis court surface colors are long-lasting, and have exceptional fade-resistance for the intense Utah sun and UV rays.
Tennis Court Crack Filling and Repair in Utah
The expansive soils in Utah, and many other common environmental factors, wreak havoc on asphalt and concrete tennis court surfaces. Tennis court crack filling and repair in Utah is a very important step before resurfacing a tennis court and between resurfacing cycles. Tennis court crack filler helps to seal off the top of the cracks and prevent moisture from flowing down into the stone base.  Excess water in the base can loosen the compacted stone layer, especially during freeze-thaw cycles, and speed up degradation of the surface.  
SportMaster tennis court crack repair products can be applied by qualified tennis court builders and resurfacing contractors in Utah to extend the life of your tennis court and lessen the sight of these open voids.
Tennis Court Color Schemes & Combinations in Utah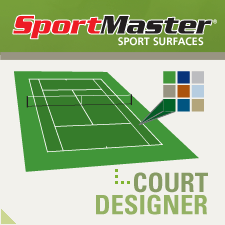 Click on the SportMaster "Court Designer" to show the available colors for your tennis court in Utah.  Experiment with lots of tennis court color schemes and combinations and let us know which ones you would like to your tennis court or sport surface.
Tennis Court Construction & Builders in Utah
Don't currently have a tennis court in your backyard?  We can help you at any point in your process.  From getting approximate budget numbers to setting up a free site consultation with a qualified court builder, our local representatives can help.  Here are just some of the many services our installers can provide:
Tennis court construction | Basketball court construction
Tennis court surfacing and resurfacing
Tennis court repair and crack filling
Tennis court layout and striping (tennis, basketball, pickleball, and many other sports) – Blended lines for kids, 10 & under tennis
Tennis court posts, nets, windscreen, and other accessories
Fencing, Lighting, and shade structures
SportMaster Sport Surfaces are made in the U.S.A. and are the only U.S. brand to have all 5 ITF (International Tennis Federation) pace certifications (Slow, Medium-Slow, Medium, Medium-Fast, Fast)