SportMaster products are local and available for tennis court resurfacing and repair in Las Vegas.  Our experienced tennis court contractors can provide free quotes on, but not limited, to the following:
Tennis court resurfacing & Repair in Las Vegas
Court Construction

Building a backyard tennis court or professional facility

Surfacing or installing other game courts:

Basketball, Pickleball, Roller Hockey, and other Athletic & Recreational Sport Surfaces
Tennis Court Crack Repair | Las Vegas NV
Are your tennis courts in need of crack repair?  The extreme temperature changes in Las Vegas can wreak havoc on asphalt and concrete tennis court surfaces.  Structural cracks expand and contract under various temperatures and weather conditions. SportMaster produces a variety of crack fillers and sealants for tennis court cracks.  Tennis court crack repair in Las Vegas can benefit from use of elastomeric or rubberized acrylic crack sealants.  These products set up like rubber so that they expand and contract with the tennis court cracks and extend the life of the surface.
Our tennis court contractors also install specialized crack repair membrane systems in the Las Vegas area.  These fabric crack repair systems help to cover the asphalt or concrete tennis court cracks, and then are concealed under the tennis court resurfacing layers. Contact us to speak with our local, Las Vegas-based tennis court contractors and see if one of these crack repair systems is right for you.
Tennis Court Resurfacing Options | Las Vegas NV
Once you fill out the contact form on this page, we will provide you with some recommended installers that work in Las Vegas.  They will ask you some questions and offer some of the following surface options:
What colors would you like on your tennis court?
Do you want a single color, two color, or multi-color court?
What sports are going to be played on your court?  Would you like additional lines painted in different colors, for other sports (i.e. basketball, pickleball, kids tennis)?
Do you have any preferences in speed of play (slow bounce/fast bounce)?
Are you interested in adding rubberized sub-layers for a cushioned tennis court?
Here is a standard color chart to help you get started with color choices-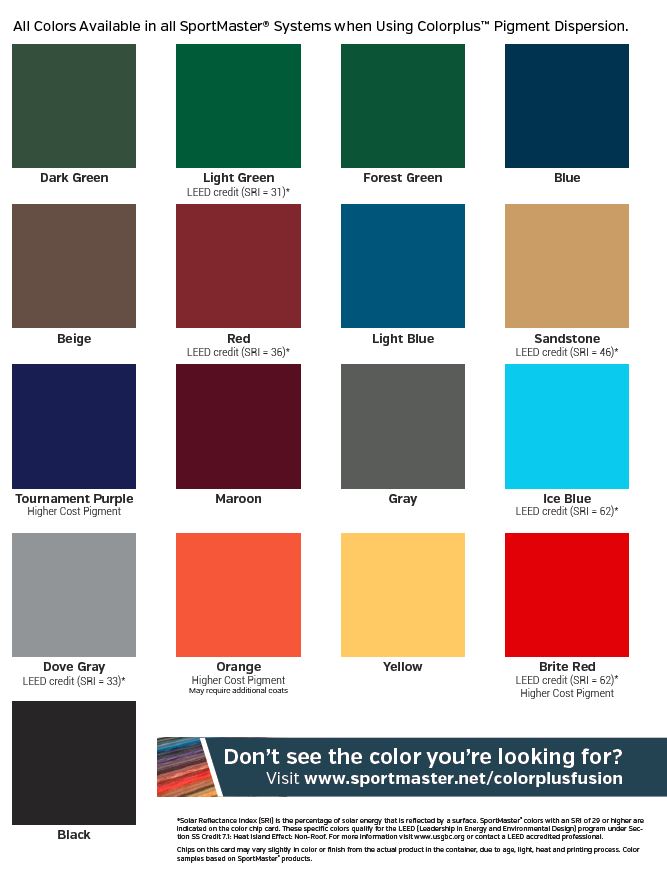 Additional or Blended Game Lines | Las Vegas NV
Adding additional game lines, also known as blended lines, can easily be done.  This maximizes the use of your court "real estate" and provides sport options.  Here is an example of a tennis court with blended pickleball lines: