Multipurpose courts are becoming very popular with the growth of booming sports like pickleball.  The best use of real estate, when it comes to athletic game courts, is to add blended lines to existing tennis or other court surfaces.  This way, the tennis court lines can be white and other sport lines can be another complimentary color. So that poses the frequently asked question of, "How to get blended line paint for a multipurpose sports court."
First of all, there is no right or wrong shade of color for blended lines, however the ATP (Association of Tennis Professionals) deems that the tennis court lines must be white.  Also note that the USTA tried to set up some standards for 10 & under tennis court line color, and this is what was proposed:
All blended lines for 10 & under tennis courts (kids tennis) shall be of the same color family as the surface, just lighter or darker.
To achieve the "standard" paint color, use one of the following ratios:
75% court surface coating to 25% white line paint for lighter shade or 25% black acrylic resurfacer for darker shade. (80% to 20% was also approved for a slight variance for shade).
In simple measurement terms, you would use 3/4 gallon of the court surface color (let's say blue) and mix in 1/4 gallon of tennis court white line paint to achieve blended lines in a lighter blue shade.  Or, use 3/4 gallon of the court surface color and mix in 1/4 gallon of black acrylic resurfacer to produce the darker line variation if preferred.  This enables court resurfacing contractors to easily achieve blended line colors with common coatings and paints that they already have on-hand and use every day in the field.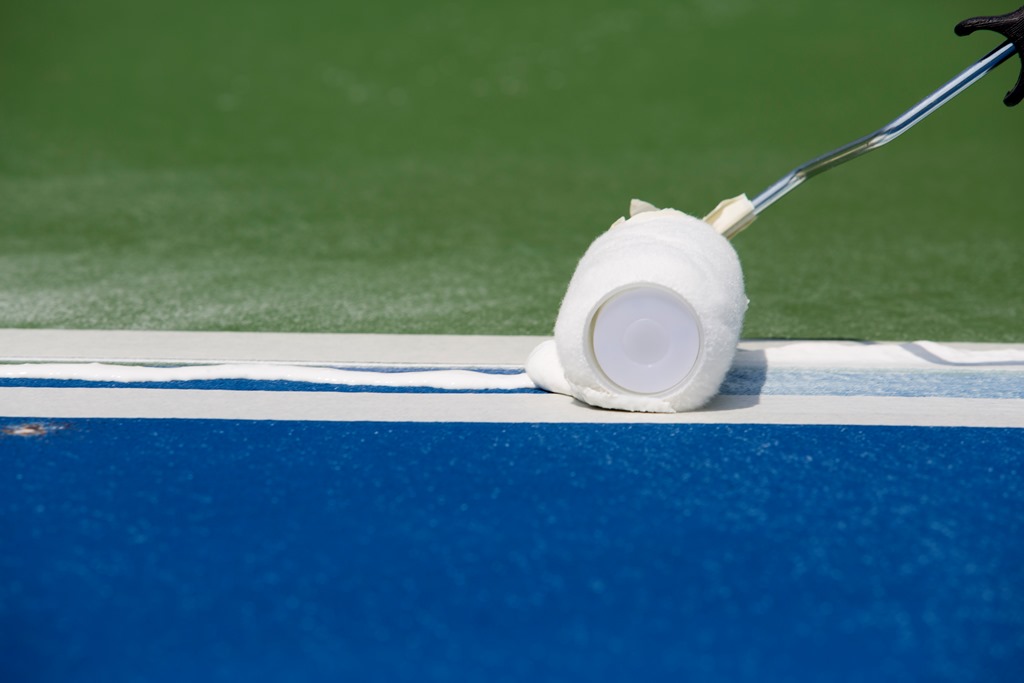 Applying blended lines will not cost a fortune, by any means.  If you are not comfortable doing it yourself, we would strongly suggest having a sport surfacing contractor do this for you.  Adding blended lines can be done at any time.  The best time would be during the initial court resurfacing, to minimize the contractor mobilization costs.  However, the cost would still be minimal down the road and you will be able to enjoy multiple sports on your multipurpose sports and game court.