If you are searching for experienced contractors to provide tennis court resurfacing & repair in Jacksonville FL, we can help. SportMaster is a leading brand of sport surfaces with over 90 locations throughout the United States, including multiple locations in the state of Florida.  Our large network of tennis court contractors service Jacksonville and Northern Florida and can repair, resurface, or paint the following types of courts:
Tennis Courts and other racquet sports
Basketball & Multipurpose courts
Pickleball Courts
Roller Hockey, Skateboard Parks, and Roller Derby tracks
Shuffleboard Courts
Playground games like Four Square, Hopscotch, and Maps
Many other athletic & recreational surfaces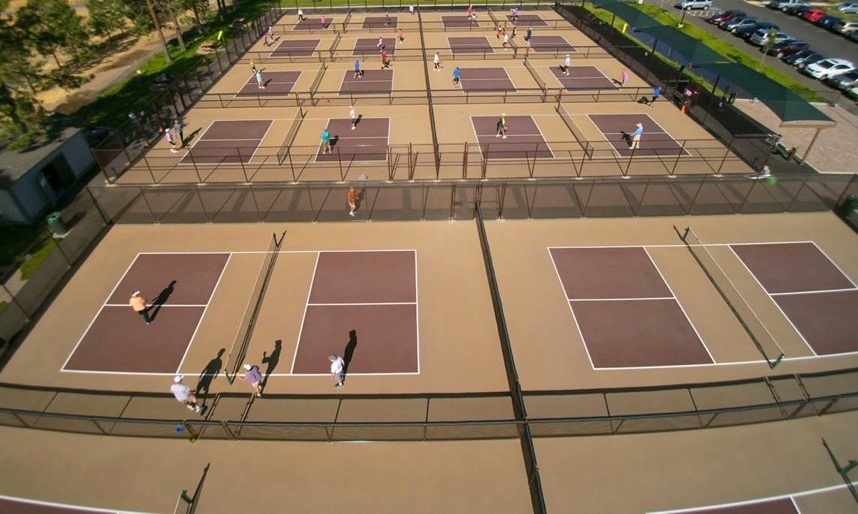 Pickleball Court Paint | Jacksonville, FL
Pickleball has been around for quite a few years, but has become one of the fastest growing sports in the United States.  It used to be mostly known as a great alternative to tennis for the aging population, since the courts are smaller and the balls bounce slower than in tennis. However, it has become a very popular game for all ages and Pickleball courts are popping up everywhere.
SportMaster has multiple sport coating systems that are ideal for Pickleball Court Paint.  Whether you are looking to build a Pickleball court or add blended Pickleball court lines to a tennis or basketball court, we have options.  Contact us and we can provide you with authorized installers that apply Pickleball court paint in Jacksonville, FL.
Tennis Court Resurfacing | Jacksonville, FL
Before you get any quotes from local tennis court contractors or asphalt companies, make sure to contact us for a tennis court resurfacing specification.  It is important to have a specification, or scope of work, before you can compare quotes.  A SportMaster representative can provide a free specification, based on the current industry standards, and then pass along qualified contractors that you can contact and secure estimates, based on the same project scope.  This way you get an "apples to apples" price from each installer and know that you are getting quoted on the same procedures from each contractor.  This helps to ensure that you don't take the lowest price and get fewer coats or inadequate surface cleaning or preparation.
Just click on the contact button and we can help to ensure that you get a quality tennis court resurfacing job in Jacksonville or Northern Florida, at a competitive rate.