The cold and snowy state of Milwaukee is extremely hard on asphalt and concrete pavement, and contributes to cracks on tennis, basketball, and other sport courts.
SportMaster Sport Surfaces are distributed in Milwaukee, and the state of Wisconsin, to qualified tennis court contractors who are trained in tennis court crack filling and repair, and tennis court resurfacing.  With local representatives servicing Milwaukee and surrounding suburbs including, but not limited to, Elm Grove, Thienville, Green Bay, Madison, and Kenosha.
Tennis Court Crack Filling & Repair
There are many different methods that our installers use to remediate tennis court cracks.  We produce acrylic crack fillers that are heavy-bodied for larger cracks, and others that use elastomeric or rubberized polymers for added flexibility.  This is important for the extreme temperatures and freeze-thaw conditions in Milwaukee that cause the asphalt cracks to expand and contract (open & close).  There are also membrane crack repair methods that cover the cracking and hide the crack, but allow it to open and close beneath the tennis court surfaces.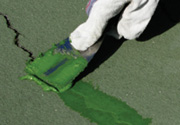 Tennis Court Resurfacing
Our tennis court contractors will visit your site and provide free estimates on tennis court resurfacing in Milwaukee and throughout the state of Wisconsin. They will lay out a scope of needed preparation and repairs, in order for them to successfully resurface your tennis court or facility.  This may include some of the following steps:
Tennis court crack filling and repair
Birdbath or low spot repair (Removing or minimizing puddles)
Removing mold, mildew, and other bacterial growth on the tennis court surface.
 Cleaning, repairing, or installing court drainage system.
Repair or install tennis court net posts, pipe anchor, or other accessories
Tennis Court Construction
Looking for a new tennis, basketball, or sport court?  Our tennis and sport contractors can provide the complete package, or provide only what meets your budget. The can begin with a fully surfaced tennis court to other add-ons like fencing, lighting, shade structures, bubble domes, and enclosed tennis court facilities.
SealMaster of Milwaukee (Servicing Wisconsin)
W 140-N 5985 Lilly Road
Menomonee Falls, WI 53051

Local Phone: (262)252-4038
Toll Free: (800)519-3554
www.sealmastermilwaukee.com
[show-contactus.com-form formkey="YTlmNTE1YzQ0Yg,," version="tab"]