SportMaster tennis court repair and resurfacing products are stocked and distributed throughout the entire state of North Carolina by SealMaster.  There are currently 5 stores in the following cities: Madison, Raleigh, Greensboro, Asheville and Charlotte.
How much does it cost to resurface a tennis court in North Carolina?
The average cost range of resurfacing a tennis court in North Carolina starts around $7,000 and can reach $10,000 or more, depending on the following factors:
The condition of the asphalt on concrete pavement beneath the tennis court surface
Does the surface require extensive cleaning or removal of moss, mold, mildew.
Are there lots of cracks and puddles to repair and level?
Do any of the accessories need to be replaced (net posts, net, pipe anchor and center strap, windscreen, etc.)
Any other repairs needed, prior to coating application?
Pickleball Court Contractors | North Carolina
SportMaster has qualified pickleball court contractors throughout North Carolina.  Whether you are looking for a new private pickleball court, public pickleball facility, or high-end tournament-quality installation, we can help!
Pickleball has become the fastest growing sport in the United States, and courts are popping up all over the country and throughout North Carolina.  The demand for new courts, either in the form of stand-alone or shared multi-sport facilities, has hit an all-time high.  If you have an existing tennis or basketball court, blended lines can also be added for pickleball.  This is a great way to maximize real estate and create combination courts.
Reach out to us and we can provide you with experienced sport contractor referrals for free estimates on:
Pickleball Court Surfacing or Resurfacing
New Pickleball Court Construction
Pickleball Court Crack & Surface Repair
Accessories (Nets, Posts, Lighting, Fencing, and other amenities)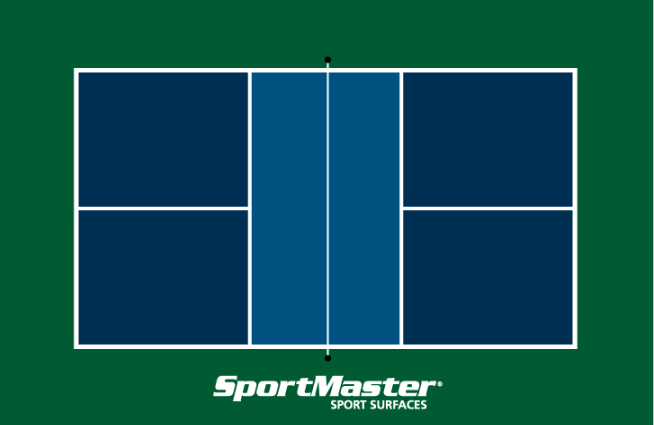 SportMaster & our PickleMaster Surfacing System is the official court surface of USA Pickleball –
Kids Tennis | 10 and under Tennis | North Carolina
Kids tennis is growing in popularity, thanks to the USTA.  Many schools, parks, and tennis court facilities are adapting to the 10 and under tennis program and adding blended lines to the full-size courts and even installing permanent kids tennis courts.  SportMaster and our North Carolina tennis court contractors can easily add blended lines for kids tennis to tennis courts when they are resurfacing and re-striping the courts.  If you are not in need of a full tennis court resurfacing, it is still easy for them to apply lines on the existing surface and they can also perform any other cleaning, crack filling, and maintenance during their visit, if needed.
For more information or to setup a site visit with an experienced tennis court contractor, fill out the contact form on this page.  We will get back with you quickly and have you on your way to receiving your free quotes for tennis court repair, resurfacing, or construction.
Charlotte
1855 Lindbergh Street – Suite 500
Charlotte, NC  28208
Local Phone: (704) 697-9577
www.sealmastercharlotte.com
Greensboro
139 S. Walnut Circle
Greensboro, NC 27409
Local Phone: (336) 854-8200
Madison
703 West Decatur Street
Madison, NC  27025
NC Toll Free: (800) 364-7556
Raleigh
550 Corporate Center Drive
Raleigh, NC  27615
Local Phone: (919) 852-3714
Asheville
44 Buck Shoals Road
Building I Suite 5,6,7,8
Arden, NC  28704-3370
Local Phone: (828) 483-6458