SportMaster is a leading producer of acrylic sport surfaces, with nearly 100 locations throughout the United States.  We also have local experts that perform tennis court resurfacing & repair in Grand Rapids & Western MI.
The climate and winters in Grand Rapids can be very tough on exterior tennis courts.  SportMaster surfacing systems are engineered to withstand the harsh weather and conditions of western Michigan.  Our tennis court surfaces will perform an average of 5 to 8 years between resurfacing.  At that point we recommend resurfacing to restore the non-slip texture and vibrant colors.

Tennis Court Maintenance | Grand Rapids & Western MI
We have more stocking locations than any other brand in the world, when it comes to tennis court resurfacing products.  Our stores provide local inventory to experienced contractors, who are trained and qualified to perform many types of tennis court maintenance.  Here are a few common tennis court maintenance procedures that our installers can perform:
Tennis Court Crack Repair
Tennis Court Cleaning & Power Washing
Tennis Court Resurfacing
Painting blended lines for Pickleball, Basketball, and other sports
Tennis Court Striping
Windscreen installation and replacement
Tennis posts, nets, and accessories
Tennis Court Color Combinations | Grand Rapids & Western MI
There are 16 standard color choices to pick from, in the SportMaster system.  You can select your favorite tennis court color combinations to emulate your high school, college, or pro team of choice.  Our tennis court contractors can also apply custom team logos or family names on the court surface.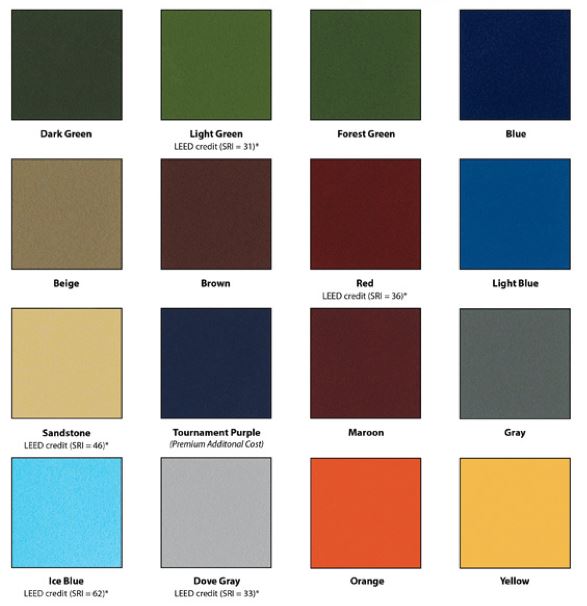 Pickleball Court Construction & Surfacing | Grand Rapids
Are you looking to join the pickleball party!  Pickleball is the fastest growing sport in the US, and pickleball courts are popping up everywhere.  From permanent courts to blended lines on existing tennis and basketball courts, it is a booming trend.  Our sport contractors can offer all phases from pickleball court construction & surfacing, to repair and resurfacing.  Free estimates are available in Grand Rapids & throughout western Michigan.  Contact us for qualified sport contractor referrals and for free project specifications.