Delaware tennis court repair and resurfacing contractors are available to apply SportMaster tennis court surfaces throughout the entire state of DE.  Fill out the contact form on this page and we will get back with you quickly to provide tennis court contractors referrals or answer any questions that you may have on tennis court repair, resurfacing, or construction.
How much does it cost to resurface a tennis court in Delaware?
The average cost to resurface a tennis court in Delaware can range from $4000 to $8000.  This can vary depending on the current condition of the court surface (asphalt or concrete) and the desired resurfacing scope to be performed.
If your court has been neglected and needs extensive cleaning, removal of surface growth, crack filling, patching, and other time-consuming preparation, you may be on the higher end of the cost range.  However, if there are only a few cracks to fill and minor cleaning is needed, you should be closer to the low end of the price range.
Cushioned Tennis Court Surfaces in Delaware
The SportMaster ProCushion system is a rubber-filled coating system for tennis and basketball courts.  It is designed to provide a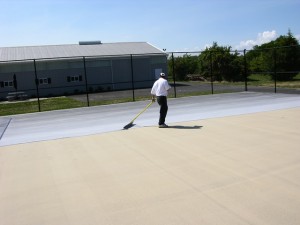 softer, resilient surface for tennis shoe sports and other athletic and recreational areas.  The ProCushion system can also be customized to fit your budget by adding or deleting some of the rubber-filled cushion layers, beneath the final colored surface coats.  This system can be used on indoor or outdoor asphalt and concrete surfaces, and stand up to the varying weather patterns of Delaware.
Tennis Court Builders and Resurfacing Contractors in Delaware
SportMaster Sport Surfaces are professionally installed by experienced tennis court builders and resurfacing contractors in, but not limited to, the following Delaware cities:
Wilmington
Dover
Newark
Bear
Middletown
Brookside
Glasgow & many more…
SportMaster products are supported, stocked, and available at the following Delaware location.  Feel free to reach out to us or stop by for further assistance:
SealMaster of Delaware
11 James Court
Wilmington, DE 19801
Local Phone: (302) 654-4811
www.sealmasterwilmington.com