Tennis court surfaces are designed as systems, or a series of coatings that all have specific purposes.  In a nutshell, tennis court surfaces are are a type of water-based paint with enhanced characteristics for tennis, basketball, and other athletic and recreational surfaces.
Unlike house paint, these coatings are designed to adhere to asphalt or concrete substrates.  They are formulated with silica sands, fibers, and aggregates to provide filling and strength under aggressive play.  Tennis court surfacing systems also have to be durable under wet conditions and still maintain a tenacious bond to the pavement.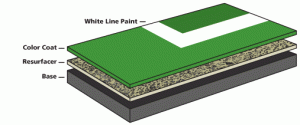 Acrylic Resurfacer
Tennis court surfacing systems normally begin with a filler/texture coat called Acrylic Resurfacer.  This coating is 100% acrylic and is produced as a black or neutral colored product.  It is mixed with a large amount of silica sand to fill voids in asphalt or concrete pavement or bring back texture from an existing smooth and worn acrylic surface.  Acrylic Resurfacer should be mixed with an angular cut silica sand, normally in the size range of 50 to 60 mesh (afs).  This size and shape of sand is good for filling voids and keying together to provide a sandpaper-like finish.  One coat of Acrylic Resurfacer is sufficient on an existing tennis court surface in good shape.  Two or more coats may be needed on new asphalt, porous surfaces, or to help shim and hide extensive crack and low spot/puddle repairs.
One of the most frequently asked questions are, "Do I need to use Acrylic Resurfacer on an existing tennis court surface?"  After years of playing and scuffing the silica sand out of old acrylic surfaces, they can become smooth.  Since all tennis court surface coatings are applied with a soft rubber squeegee, Acrylic Resurfacer is needed to bring back a textured surface prior to application of the color coatings.  This ensures optimal and consistent application and coverage of the final coats.  If Resurfacer is not used, the color coatings can be "wiped off".  Almost like using a window squeegee on a smooth glass window when cleaning.  This greatly lowers the application rate and longevity of the coating system.
Here is a short video showing the mixing and application process of Acrylic Resurfacer:
Tennis Court Surfaces | Color Coatings
Tennis court surface coatings come in a variety of colors and contain a very fine silica sand.  This sand is usually measured around 80 to 100 mesh (afs) and typically has a rounded shape.  The round shape helps to minimize application or tool marks, also called "streaking".  Larger and more angular cuts of sand can be used to achieve slower speed of play and higher ball bounce.  Since color coatings are applied with a squeegee, there will always be some degree of tool marking.  Application marks can be seen clearly when looking at the court and into the sun.  When the sun is at your back, they are extremely difficult to find.  When the courts are striped and after some play and additional curing, the application marks can subside.
The tennis court color coatings require a minimum of two coats, but additional coats can be applied for extended coverage and wear of your tennis court surface.
Watch the following video on mixing and applying colored tennis court surfaces:
There are many different colors to choose from, when it comes to acrylic sport surfaces.  Here are some examples from a leading manufacturer of sport surfaces. Click on the court designer to see the available colors and play around with color combinations on the virtual court –