SportMaster Sport Surfaces are installed locally by the best tennis court resurfacing & repair contractors throughout Boise, Idaho and the treasure valley.  The 100% acrylic formulation is ideal for the climate and temperature swings in Boise and the state of Idaho.  Our tennis court surfaces contain specific silica sand mixes for slip-resistance and spin-responsive play.  SportMaster tennis court surfacing systems have also been classified by the ITF for all speeds of play.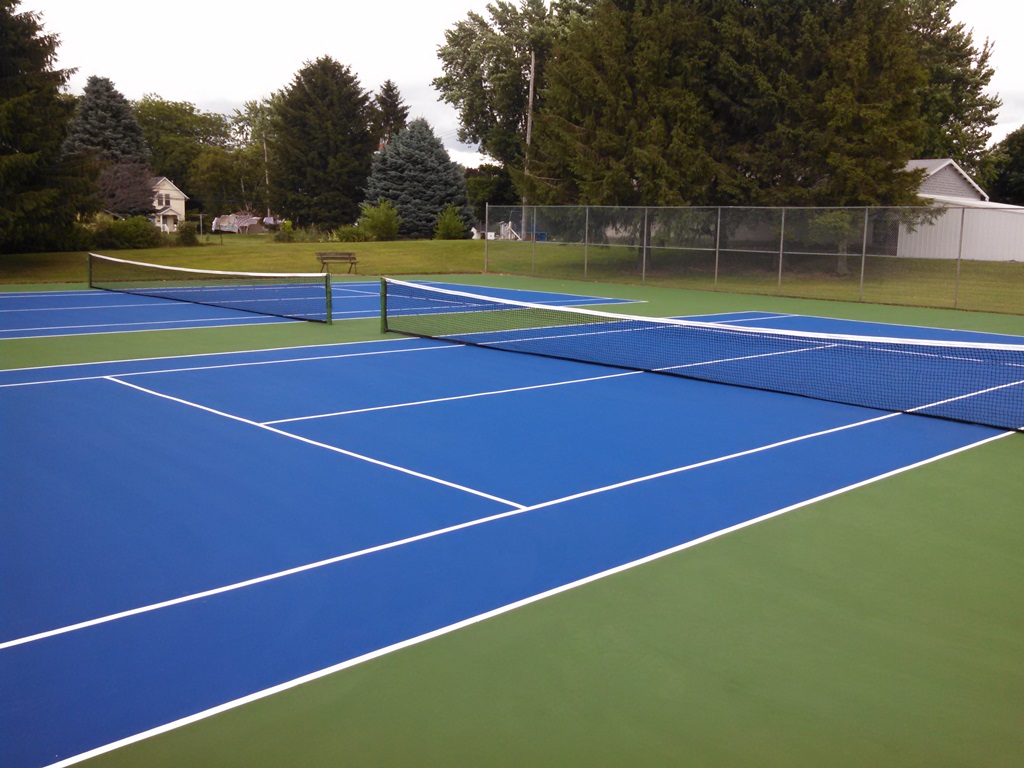 Tennis Court Color Combinations | Boise, ID
SportMaster has 16 standard color choices that can be used on all of our sport surfacing systems.  Here are just some of the sports that can utilize our color coating systems:
Tennis Court Surfaces (including 10 & under tennis)
Basketball Court Surfaces
Futsal and hard soccer courts
Multi-sport & combo courts
Playgrounds (4-square, maps, hopscotch, etc.)
Roller Sports (roller hockey, skateboard, etc.)
Running Track Surfaces
Pickleball Court Surfaces | Boise, ID
Pickleball is one of the fastest growing sports in America.  Many people have been sharing tennis courts and adding temporary lines in order to play pickleball.  However, the extreme growth of the sport has expanded demand for more permanent pickleball courts. Many parks districts have taken note and begun adding pickleball courts or changing other courts over to pickleball with great success.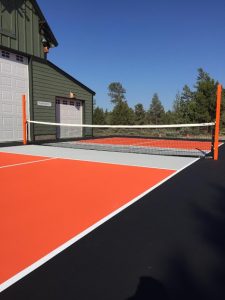 If you would like a free estimate on building or surfacing pickleball courts, we can refer you to qualified contractors. They can help to provide budget or specific information and let you know all of the relevant details.  Pickleball takes up a much smaller footprint than full-sized tennis or basketball courts, so the pricing is more affordable than many people realize.  Don't forget to inquire about the SportMaster ProCushion system for pickleball courts.  This optional  system adds rubberized coatings beneath the colored surfaces, to absorb shock and create a  more comfortable playing experience.
Tennis Court Crack Repair | Boise, ID
Whether you are in need of a full court resurfacing, or you just need tennis court crack repair, we have options to help.  If you just looking to maintain the cracks yourself and don't need to resurface, one of our ready-to-use products would be the easiest solution.  You can pour and/or trowel the product into the cracks and prevent moisture from getting into the base of the courts.  This will help to extend their useful life and minimize the havoc of freeze-expansion during Boise winters.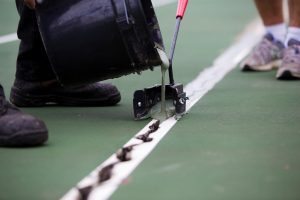 Tennis Court & Sport Contractors Available
Don't hesitate to contact us for information and to locate qualified contractors throughout Idaho.  Here are just some of the common areas that our installers work:
Boise and the Treasure Valley
Nampa
Meridian
Kuna
Star
Eagle
Hailey