How much does it cost to resurface a tennis court in Chicago and Northern IL?
The average cost to resurface a tennis court in Chicago and Northern IL is $4000 to $6000.  This number can be higher if the asphalt or concrete tennis court surface has lots of cracking, low spots or needs substantial cleaning or removal of moss and mold.  SportMaster tennis court surfaces are installed by the best tennis court contractors in the Chicago and Northern IL area.  Fill out contact form on this page to request a free estimates on tennis court repair, resurfacing, or construction.  We will put you in touch with a qualified local tennis court contractor based in Chicago, northern Illinois, or close to your facility.

Tennis Court Resurfacing and Repair in Chicago
Don't call a painter if you need to have your tennis court resurfaced.  Tennis court resurfacing and repair is a specialized field that requires knowledge of pavement (asphalt and concrete), and how to properly prepare the surface before resurfacing.  Here is the standard procedure for tennis court resurfacing and repair in Chicago:
Clean entire tennis court surface. Make sure it is free from dirt, gum, debris and organic growth like mold, moss, and mildew.
Fill all cracks with the appropriate tennis court crack filler or use a specialized tennis court crack repair membrane system.
Level all depressions deeper than a Nickel with SportMaster Acrylic Patch Binder patching mix. This will prevent standing water, also known as birdbaths on the tennis court surface.
Apply Acrylic Resurfacer (with silica sand) to fill surface voids, conceal crack and birdbath repair, and to retexture the tennis court surface before applying tennis court color coatings.  Two coats may be needed if there is a lot of crack/low spot repair or if there are substantial voids in the surface (new asphalt tennis court).
Apply a minimum of two coats of a SportMaster Color Coating System.  All coats should contain the manufacturer-recommended grade and amount of silica sand.
Finally, using a line taping machine, mask all lines on the tennis court surface.  Apply Stripe Rite (anti-bleed line primer) and allow to dry.  Follow with one coat (minimum) of SportMaster textured white line paint.
For more information on tennis court repair and resurfacing in Chicago and Northern IL, feel free to contact us or stop by any of our Chicagoland locations.  SealMaster of Chicago is the distributor of SportMaster Sport Surfaces, with multiple locations throughout Chicago and Northern IL –
SealMaster of Chicago
(Streamwood, IL & Main Office)
375 Roma Jean Parkway
Streamwood, IL 60107
Local Phone: (630)372-8300
www.sealmasterchicago.com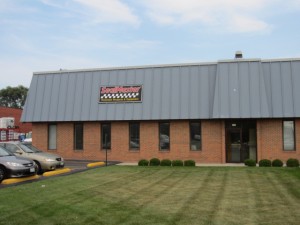 SealMaster of Chicago
(Alsip, IL)
5844 West 117th Place
Alsip, IL 60803
Local Phone: (708)489-0900
SealMaster of Chicago
(O'hare / Wood Dale, IL)
367 East Potter Street
Wood Dale, IL 60191
Local Phone: (630)350-7325
SealMaster of Chicago
(Rockford, IL)
904 7th Street
Rockford, IL 61104
Local Phone: (815)969-0664
[show-contactus.com-form formkey="YTlmNTE1YzQ0Yg,," version="tab"]