SportMaster has multiple stocking locations throughout the state of Virginia.  We produce and distribute sport surfacing and repair products to qualified tennis court builders and contractors and have representatives to assist with the following:
Specification Assistance with architects, designers, engineers, and end-users
Tennis court contractor support and training
Statewide stock and delivery of tennis court and sport surfacing products, tools, and equipment
Tennis Court Crack Filling and Puddle Removal
Does you have cracks and puddles on your tennis court surface and need to have them removed?  This is a common problem, especially with asphalt tennis courts.  Cracks can be filled with SportMaster acrylic-based crack repair products, or the tennis court contractor may offer you other membrane crack repair alternatives, if your court is a good candidate.
Low spots that create puddles on a tennis court surface may form years after the court is paved. There are many reasons for this, like a tree root dying under the court and rotting away or expansive soil under the slab that has shifted.  Acrylic Patch Binder patching mix is commonly used to fill the puddle area, also known as a birdbath.  After puddles are leveled with this patching mix, the water is able to follow the proper slope of the tennis court and run off to the original drainage design.
Tennis Court Resurfacing in Virginia
Tennis court resurfacing in Virginia is available through specialized tennis court contractors that use SportMaster color coating systems. After cleaning the court, puddle removal, and crack repair, the SportMaster ColorPlus system begins with one or two coats of Acrylic Resurfacer.  This products is a heavy, sand-filled coat that provides void filling, minor leveling, and texturing of the existing smooth surface.  If it is a new court, 2 coats of Acrylic Resurfacer may be needed to fill all of the voids in pavement.
After Acrylic Resurfacer has been applied, two coats of the SportMaster ColorPlus System is applied to provide a beautiful and long lasting surface.  There are 16 standard tennis court colors to choose from.  To find the color combination that best suites your needs, play around with the SportMaster Court Designer: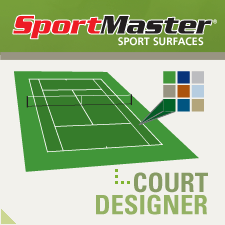 Fill out the "contact us" form on this page to received experienced tennis court contractor referrals in the state of Virginia.  We will get back to you quickly with recommended tennis court builders and resurfacing professionals in Virginia.