SportMaster tennis court resurfacing & repair products are locally stocked and supported throughout the states of Texas.  We have representatives and tennis court contractors that cover the massive state of Texas. From Dallas to Houston and El Paso, SportMaster is available everywhere.
SportMaster is the official surface of the Dallas Tennis Classic, and can be installed on your tennis courts by qualified tennis court contractors in Texas. Whether your are looking for green and purple, or more traditional tennis court colors, SportMaster tennis court surfaces are available in 16 standard colors that will resist fading in the hot Texas sun.
Tennis Court Specifications | Texas
We can help you by creating a custom tennis court specification for your facility.  Whether you are an owner of a backyard tennis court, an architect/engineer, or facility manager, SportMaster can prepare a scope so that you can get an apples to apples price from multiple tennis court contractors.
Pickleball Court Painters | Texas
SportMaster is also a leading producer of Pickleball Court Surfaces. Our texas-based installers regularly build and resurface pickleball courts.  Both permanent and temporary pickleball courts are common and fast-growing everywhere.  SportMaster pickleball court painters are available throughout the entire state of Texas and will also provide free estimates on your project.  Fill out our contact form or give us a call for qualified contractor referrals.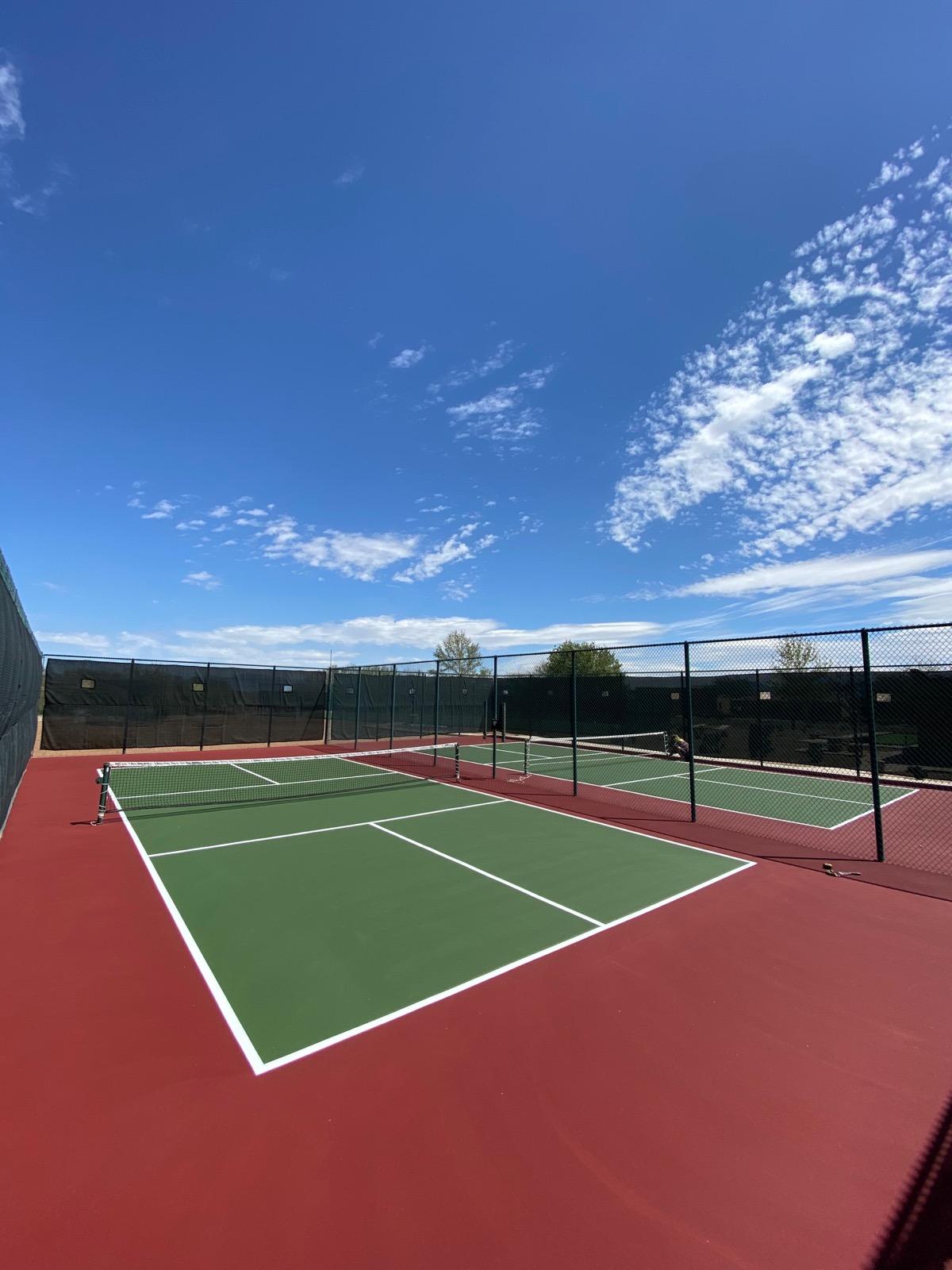 Tennis Court Maintenance in Texas
Acrylic tennis court surfaces require very little maintenance. Unlike other surfaces, watering and brooming is not a required daily step.  Acrylic sport courts benefit from wind and rain to "rinse" dirt and debris off of the court naturally.  An occasional sweeping, blowing, or rinsing may be needed in certain areas, and avoid letting leaves or pine needles lay on the surface for long periods of time, for best results.
The average tennis court resurfacing cycle in Texas is 4 to 8 years, depending on a variety of factors:
Quality of the court construction (cracking, low spots creating puddles)

Was the court built with proper drainage, slope, etc.

Did the tennis court contractor use a good quality sport surfacing system
Does your tennis court get a high volume of play
For more information on proper tennis court maintenance, consult the following tennis court maintenance manual:
Tennis Court Maintenance Manual