Contact us if you are looking to get free quotes on tennis court resurfacing and repair in Canada.  SportMaster Sport Surfaces are locally and regionally stocked and supported throughout Canada, by local SealMaster representatives.  Our Canada-based locations carry industry-standard products, tools, and equipment for professional tennis court builders and resurfacing contractors.  We can help to put you in touch with experienced tennis court construction and resurfacing companies with experience in, but not limited to, the following:
Building backyard tennis courts or professional, multiple court facilities
Tennis court crack filling and repair
Puddle removal, also known as birdbath leveling
Tennis court resurfacing
Striping lines for tennis, basketball, kids tennis, pickleball, and many other sports.  Adding multiple lines to a court, blended lines.
Installing tennis court accessories like net post sleeves and posts, pipe anchor, nets, center strap, etc.
Bubble domes, buildings, shade structures, windscreen
Tennis court lighting, fencing, and more
Tennis Court Color Combinations in Canada
SportMaster has 16 standard tennis court color choices in the ColorPlus sport surfacing system.  This offers many different combinations to court owners.  Whether you want more traditional choices like red and green, or you are looking for popular trends like blue and green, your options are plenty.  Another popular choice is to find the colors that come closest to your favorite high school, college, or professional sport teams and have the installer paint a custom logo on your surface.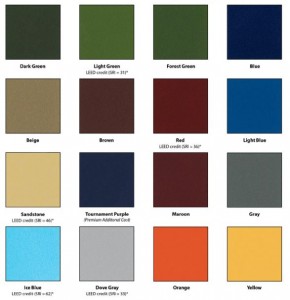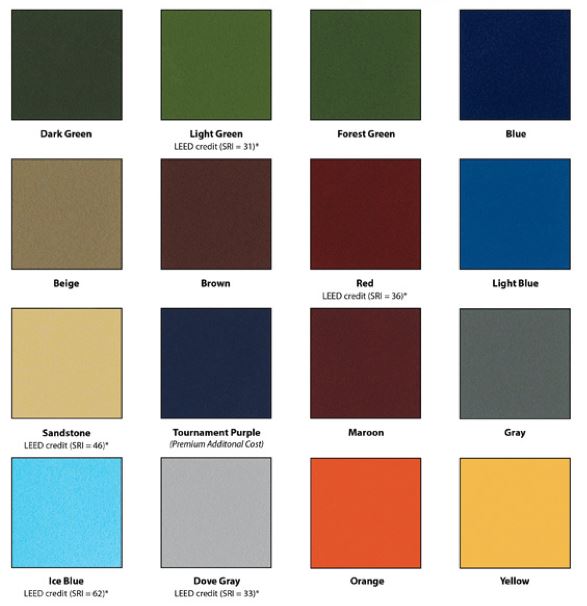 Tennis Court Crack Repair | Canada
SportMaster 100% acrylic formulations are ideal for the extremely cold and snowy conditions in Canada.  However, the asphalt and concrete surfaces are still subject to cracking and damage from moisture on and beneath the pavement surface.  It is very important that you maintain the surface cracks by filling and sealing them with acrylic based crack repair products and minimize the penetration of water into the base of the court.  Once water seeps into the base, it can loosen the gravel and disrupt the once-compacted underlayment. With the help of freezing and expansion, the base damage is intensified and likely to breakdown at a quicker rate.  Our qualified tennis court contractors can examine your court and provide recommendations for tennis court crack repair and long-term maintenance in Canada. Fill out the contact form on this page for more information or to set up your free consultation.  You can also call us at (800) 326-1994 for immediate assistance.
Pickleball & Basketball | Canada
SportMaster also produces acrylic surfaces that are ideal for pickleball and basketball.  Many times we are seeing sports courts with blended multiple sets of lines for various sports.  Combining pickleball lines on a tennis or basketball court has become very popular.
This is great way to keep your options open for a variety of sports on the same real estate!  Feel free to reach out to us if you have further questions or would like qualified contractor referrals in Canada.
SportMaster of Canada
Phone: (800)326-1994