Contact us for tennis court resurfacing in Fairfield County CT.  Our factory-authorized tennis court builders and resurfacing contractors can provide tennis court repair, resurfacing, or construction on your sport or game court in Fairfield County and throughout Connecticut.
Pickleball Court Resurfacing & Construction in CT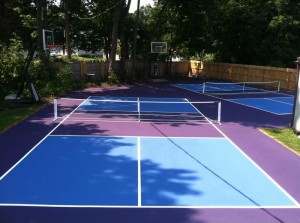 Pickleball is one of the fastest growing racquet sports in the United States.  It is similar to tennis, but it is played on smaller courts and slightly different layout and rules.  Players use paddles instead of racquets, and a ball similar to a wiffleball.  It is great for older players, since the courts are smaller, but younger players enjoy it just the same.
SportMaster Sport Surfaces are ideal for surfacing Pickleball courts, and there are 16 standard colors in which to choose.  The textured surfaces provide traction and slip-resistance for Pickleball players, and provide a vibrant aesthetic finish for asphalt and concrete Pickleball court surfaces.  Fill out the contact form on this page, and we will put you in touch with qualified Pickleball court builders and resurfacing contractors throughout Fairfield County CT.
Cushioned Tennis Courts in Fairfield County CT
The SportMaster ProCushion system is an acrylic surfacing system for tennis, pickleball, and basketball court surfaces.  It is fortified with rubberized particles and flexible acrylic resins for years of soft sport surfacing under foot.  Our local Connecticut-based installers can build or resurface your sport or game court with a standard, colored acrylic surface or add the premium cushioning layers for added resilience and player comfort.
Backyard Basketball Court in Fairfield County CT
Basketball courts are very similar to tennis courts in the way that they are built and surfaced.  Both courts are comprised of either asphalt or concrete and a 100% acrylic surfacing system.  SportMaster surfacing systems are ideal for basketball courts on indoor and outdoor surfaces.  They are textured with the right amount of silica sand for slip-resistant play, and can even be cushioned for player comfort.  Reach out to us and we can put you in touch with a qualified installer or builder in Fairfield County CT.