Is it time to resurface your tennis court?  We can help put you in touch with qualified tennis court contractors that work in the Norfolk and Virginia Beach area of eastern VA.  Free estimates are available on tennis court resurfacing, repair, and construction throughout Norfolk, Virginia Beach, and the entire eastern VA area.
SportMaster Sport Surfaces are stocked in Norfolk and supported by local representatives that can help provide site-specific specifications and refer the best local tennis court builders and contractors to maintain your tennis court surface in Norfolk and Virginia Beach.
Tennis Court Colors in Norfolk and Virginia Beach
SportMaster is a premium brand of acrylic sport surfaces for tennis courts and other athletic and recreational surfaces.  The local store in Norfolk keeps a wide variety of standard tennis court colors available for tennis court contractors and surfacing professionals.  Common tennis court color combinations include:
Light Green (outside) & Blue (Inside)
More traditional colors like Red & Green, one-color Green
Light Green & Dark Green
Premium and uncommon colors like Orange, Yellow, Purple
Light Blue and Dark Blue
To see the complete list of standard tennis court colors and to play around with different color combinations, check out the SportMaster court designer.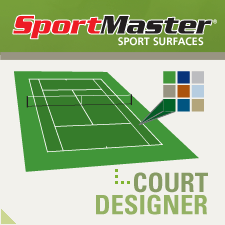 Cushioned Tennis Court Surfaces | Norfolk and Virginia Beach
Are you looking for a softer tennis court, but don't like all of the maintenance and watering associated with clay?  The SportMaster ProCushion system may be the ideal choice for your tennis court surface.  The ProCushion system adds multiple sub-layers of acrylic coatings that are filled with soft rubber granules.  The buildup of multiple coats creates a cushioned tennis court surface that provides shock absorption and softness, without sacrificing the ball bounce and low maintenance of a hard tennis court.
For more information or to get free quotes from experienced Norfolk and Virginia Beach based contractors, fill out the contact form on this page, or reach out to our local representatives at the following location:
SealMaster of Norfolk & Virginia Beach
5552 E. Virginia Beach Blvd
Norfolk, VA 23502
Local Phone: (757)623-2880
www.sealmasterdelmarva.com