Tennis court resurfacing & repair in Michigan by SportMaster authorized installers.  Are you searching for qualified tennis court contractors or specialty builders to provide free estimates on tennis court construction, repair, or resurfacing?  Our Michigan-based representatives can help!  We can refer you to qualified, authorized installers that can provide you with free site visits and quotes on a variety of sport surfacing & construction projects:
Professional or backyard courts
Court construction or resurfacing
Sport surface repair: crack repair, leveling, puddle removal
Basketball goal installation, net post installation, and court hardware repair
Court fencing & lighting installation
Basketball, Pickleball, and more!
Tennis Court Painting | Michigan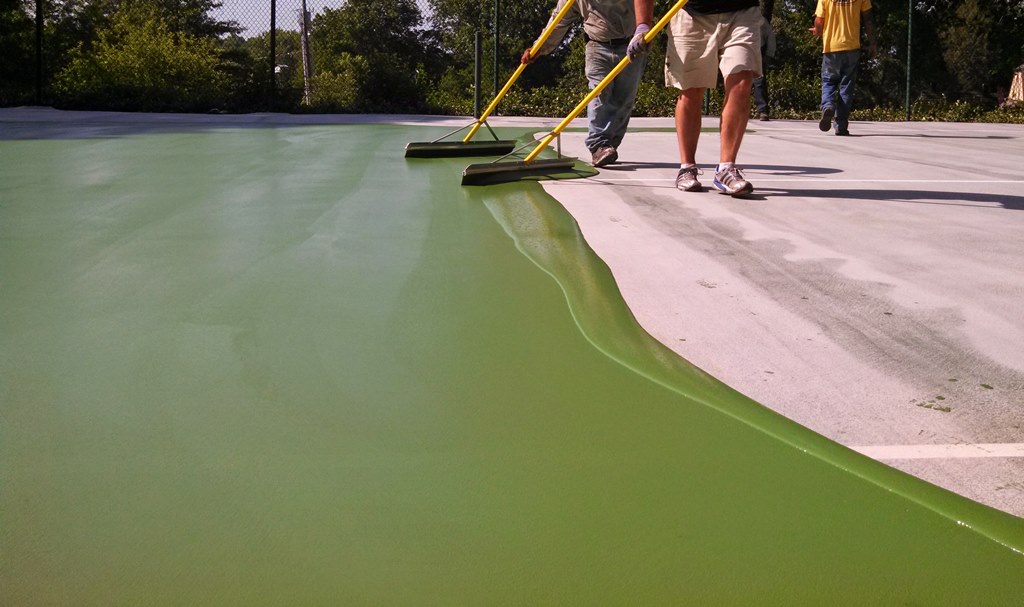 Many people refer to it as painting a tennis court in Michigan. However, the industry term is surfacing or resurfacing.  The coatings are a type of paint, but there are a variety of differences in the makeup of tennis court coatings.  Tennis court surfaces are designed to hold specific types and amounts of silica sand for safe, non-slip play.  Also, tennis court surfaces contain different shaped sand in order to create specific surface paces, or speed of play.  Unlike painted walls, court surfaces are horizontal and must have better protection against rain and the brutal snowy Michigan winters.

Tennis Court Contractors | Michigan
Are you are interested in building a new backyard tennis, basketball, or pickleball court?  Or, do you need to have your existing sport surface repaired or resurfaced?  We can put you in touch with experienced, tennis court contractors in Michigan.  Just click on the contact form and we will assist you with information on products, contractors, and project specifications so that you can get the recreational court of your dreams.
SportMaster | Michigan Locations
Detroit & Eastern Michigan 
27989 Van Born Road
Romulus, MI 48174
(313) 292-2299
Grand Rapids & Western Michigan
2522 Chicago Drive, SW
Wyoming, MI 49519
(616) 538-2558