It is always important to find qualified contractors to handle tennis court restoration.  A handyman or professional painter isn't the best choice, when it comes to patching an asphalt or concrete tennis court.  There are tools of the trade and specific experience factors that set a professional tennis court contractor apart from the rest. As the manufacturer of tennis court restoration materials, we can provide you with experienced contacts that work in your area and provide free consultations and estimates on new court construction, repair, and restoration.
As the court owner, it is also important to have an idea of the process.  For a good printed overview, visit the Tennis Court Resurfacing Specs on our parent site.  We will also take you through some of the restoration steps here:
Tennis Court Restoration | Surface Prep
Typically, a court should be pressure washed to ensure good adhesion.  Some contractors may opt to use surface sanders instead of power washing.  This method sands off the top layer of potentially loose, oxidized, or blistered coatings and leaves a uniform coating surface.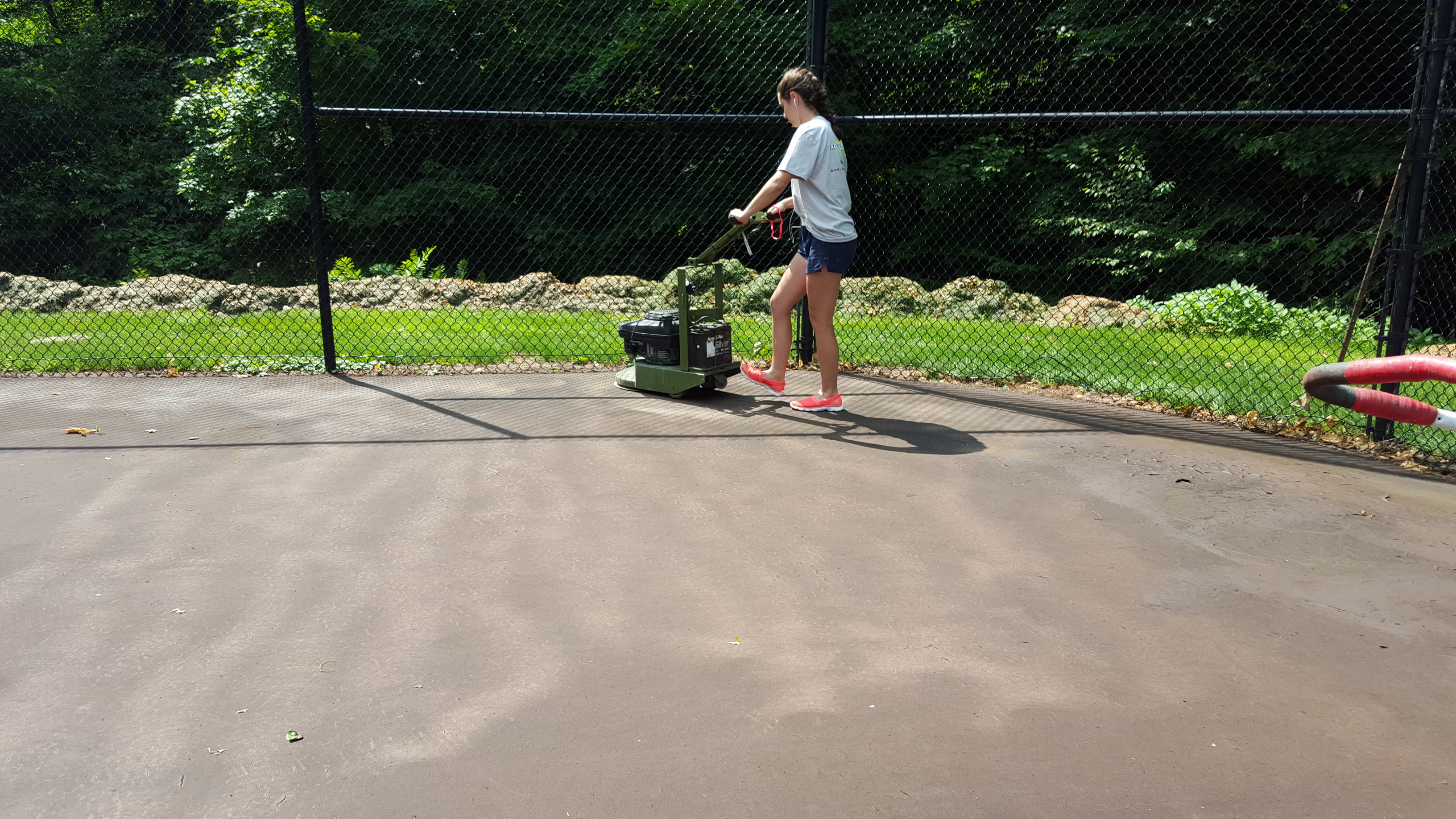 Tennis Court Restoration | Surface Repairs
After the surface has been cleaned and the surface if free from loose and peeling coatings, surface repairs are ready to begin.  If there is any vegetation growing out of the cracks, it should be manually removed.  Cracks can be routed to create a uniform crack with fresh walls for crack sealants to better adhere.  There are also machines with wire wheels that can be used to remove growth in the cracks or on the edge of the court to prevent overgrowth and interference in coating applications.
Cracks can be filled with Acrylic Crack Patch or another variety of 100% acrylic SportMaster crack filler.  Low spots and any peeling areas can also be primed with straight or diluted Acrylic Patch Binder.  After the primer coat has dried, APB is mixed with portland cement and sand to create a heavy-bodied compound for low spot leveling and crack repair.  It is shown being applied by screed to level a birdbath above.  Finally, after cracks and low spots are filled and leveled, Acrylic Resurfacer can be used to shim and retexture the restored surface blemishes and prepare the surface for coatings.
Tennis Court Restoration | Resurfacing
After the surface repairs are made, the court should be cleaned and blown off with an industrial blower.  Acrylic Resurfacer is now applied to bring back a consistent court surface texture and eliminate the potential for shiny spots where the color coatings are wiped off by the squeegee applicator.
Tennis Court Restoration | Color & Striping
Finally, color coatings and line paint are applied to complete the tennis court restoration process.  After two to three days of curing, the courts can be opened for play.  This restoration process should take place every 4 to 7 years, depending on climate, surrounding conditions, and play.
Tennis Court Restoration Contractors
If you would like to find some local installers to provide free estimates on tennis court restoration or new court construction, click on the "contact us" button and we will provide qualified recommendations that work in your area.