SportMaster is a 100% acrylic brand of tennis court surfaces for asphalt and concrete courts.  Professional tennis court contractors have been choosing SportMaster for tennis court resurfacing and repair throughout the San Francisco Bay Area, for over 40 years. To get your free estimate on tennis court repairs, resurfacing, or construction, just click on the "contact us" button.  We will put you in touch with an experienced and affordable tennis court builder or resurfacing contractor in the greater bay area.
Tennis Court Crack Repair | San Francisco Bay Area
Tennis court crack repair in the San Francisco Bay Area is a very common practice.  Asphalt tennis court cracks can happen at any point and arise for multiple reasons.  Many times, there is settling or movement beneath the compacted base and this creates structural cracks in the asphalt tennis court surface.  The seismic activity in Northern California definitely compounds this problem.  There are a few methods for crack repair, but few are permanent.  Our local bay area installers can educate you and provide options that may be best for you situation, but here are some general procedures:
Crack filling with acrylic-based crack sealants and patching mixes comprised of acrylic binders, cement, and silica sand
Specialized crack repair membrane systems with acrylic-bound fabrics
Construction or reconstruction, and other structural repairs
Backyard Basketball Court Surfacing | Greater Bay Area
SportMaster has many specialized surfacing systems for a variety of sports courts and athletic and recreational areas.  Our acrylics feature safe, textured finishes for non-slip playing surfaces in dry or wet conditions.  It is common to use SportMaster surfaces for stand-alone basketball courts, as well as combination courts with tennis and basketball.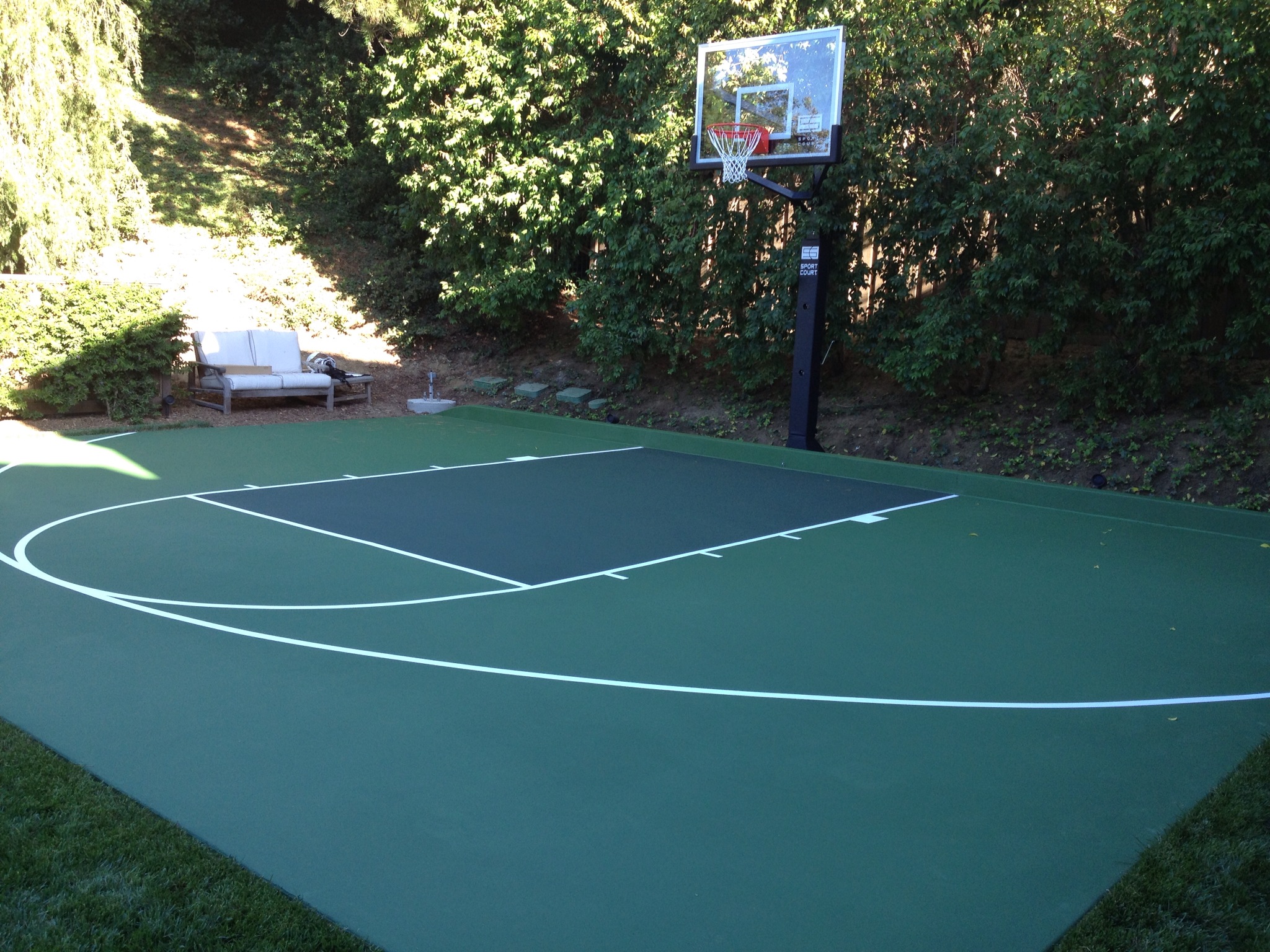 Not only do the coatings look great and provide safe footing, but they also seal the asphalt or concrete pavement and extend the life of the surface by two or three times, vs uncoated pavment.  Contact us for more information or free quotes on basketball court paint and construction, and we will provide qualified referrals in the San Francisco Bay Area.