SportMaster is the official court surface of the USA Pickleball. We offer PickleMaster & PickleMaster RTU coating systems, which are designed for the sport of pickleball.  PickleMaster is fortified with a specialty aggregate blend, which provides a non-slip surface texture without causing excessive wear on pickleballs.

Pickleball court surfaces are identical to tennis and basketball surfaces, for asphalt or concrete courts.  They are textured with a smooth and rounded, non-aggressive silica sand.  This provides a slip-free surface in dry and wet conditions.  Not only are these 100% acrylic surfaces safe and beautiful, but they also seal and preserve your asphalt and concrete investment for years of fun recreational use.  Here are just some benefits of SportMaster acrylic Pickleball court surfaces:
Very low maintenance
Ideal for minimizing surface glare
Asphalt and concrete preservation
Safe, textured playing surface
Contains rounded, proprietary aggregate blend for traction
Available in 17 standard colors through SportMaster Sport Surfaces & many more with the ColorPlus Fusion blends.
Installers are available nationwide, and around the world
Water-based, low VOC formula (environmentally friendly)
Pickleball Court Surface Colors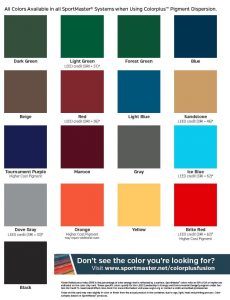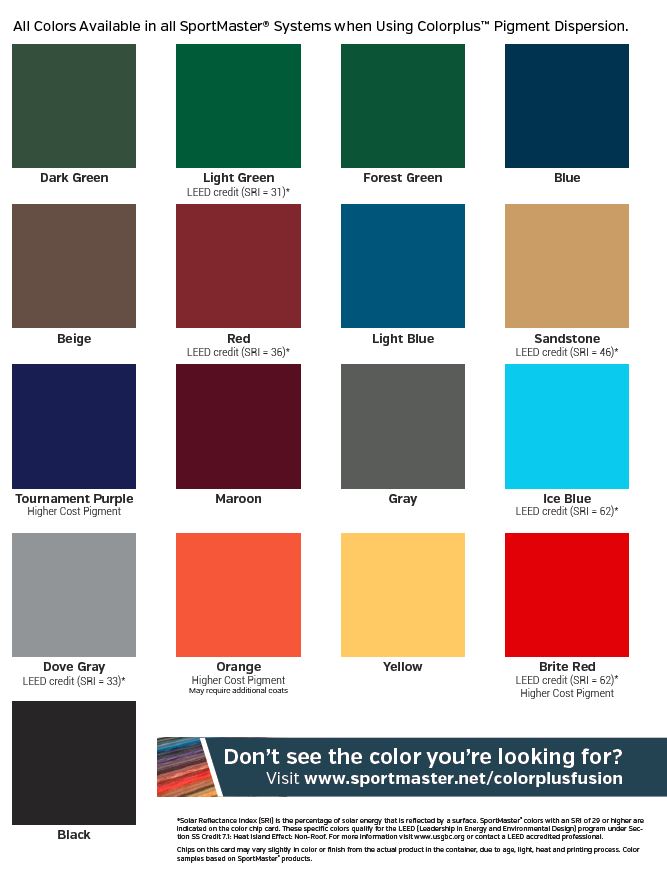 Here is the current color chart showing all available Pickleball court surface colors. They can all be installed in any combination of your choice, and are readily available for use in the SportMaster ColorPlus system.  If you would like more information or a textured color chart, feel free to contact us and we will send it out to you at no charge.
Pickleball Court Construction
Click on the "Click here for quotes" form and we can put you in touch with qualified Pickleball court construction contractors near you. Building a Pickleball court is different that pouring a driveway.  There are important design differences including specific slope for drainage, surfaces texture, and many other guidelines per the American Sports Builders Association.  Our nationwide network of installers are trained to properly build many kinds of sport surfaces, including Pickleball courts.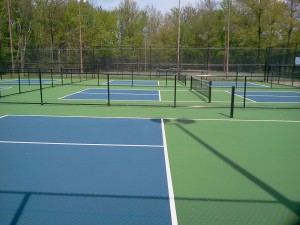 Backyard Pickleball Court Builder
Pickleball is one of the fastest growing sports, and a great choice for old and young players.  The small playing area of the court makes it a great choice for most backyards.  If you are interested, we can put you in touch with a local, backyard Pickleball court builder that can provide answers to the following popular questions:
How much would a Pickleball court cost to build in my backyard or property?
Do I have enough space in my backyard for a Pickleball court?
Should I use asphalt or concrete for my Pickleball court surface?
How much time would it take to build and surface a Pickleball court?
How often does my court need to be resurfaced?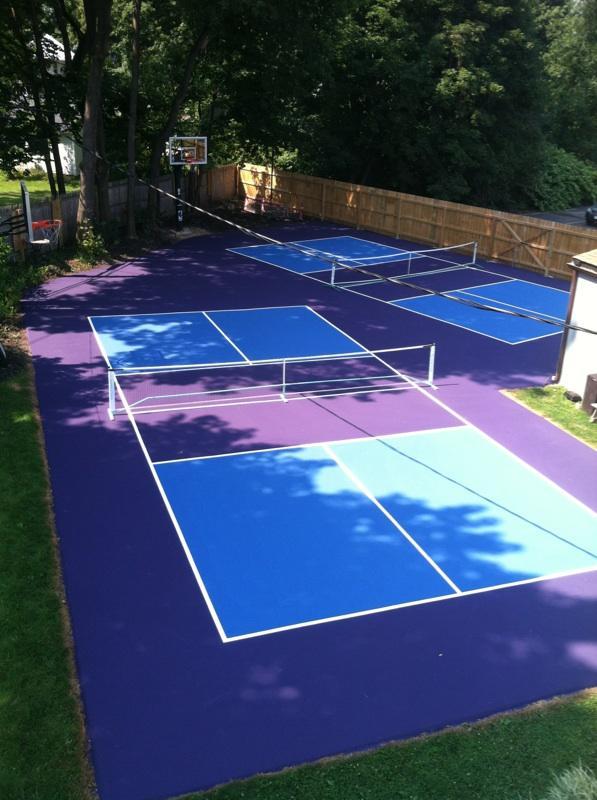 There are way too many questions and answers to list, but we will be glad to help you find the answers you need to make an informed decision. Contact us to set up a free site visit and quote from an authorized Pickleball court builder or resurfacing professional.
Here is some additional information on Pickleball Court Surfaces:
Pickleball Court Layout and Striping Diagram
Pickleball Court Resurfacing Specifications – On Asphalt
Pickleball Court Resurfacing Specifications – On Concrete
Cushioned Pickleball Court Surfacing Specifications – On Asphalt
Cushioned Pickleball Court Surfacing Specifications – On Concrete