When is it too cold to apply tennis court surfaces?  The quick and direct answer is:  It must be 50 degrees Fahrenheit (10 Celsius) and rising during application, and for at least 24 hours after.  This is very important to ensure curing of the 100% acrylic latex binder.
My tennis court coatings were dry, why is it failing?
As explained in a previous article, there is a difference between drying and curing.  The coating must dry first, which means the water in the paint evaporates.  This leaves all of the coating molecules, which are unconnected.  It looks normal to the naked eye after drying.  However, the particles are not melted together or coalesced.  If the temperatures fall below the recommended range and the coating gets wet from dew or precipitation, it can be easily damaged.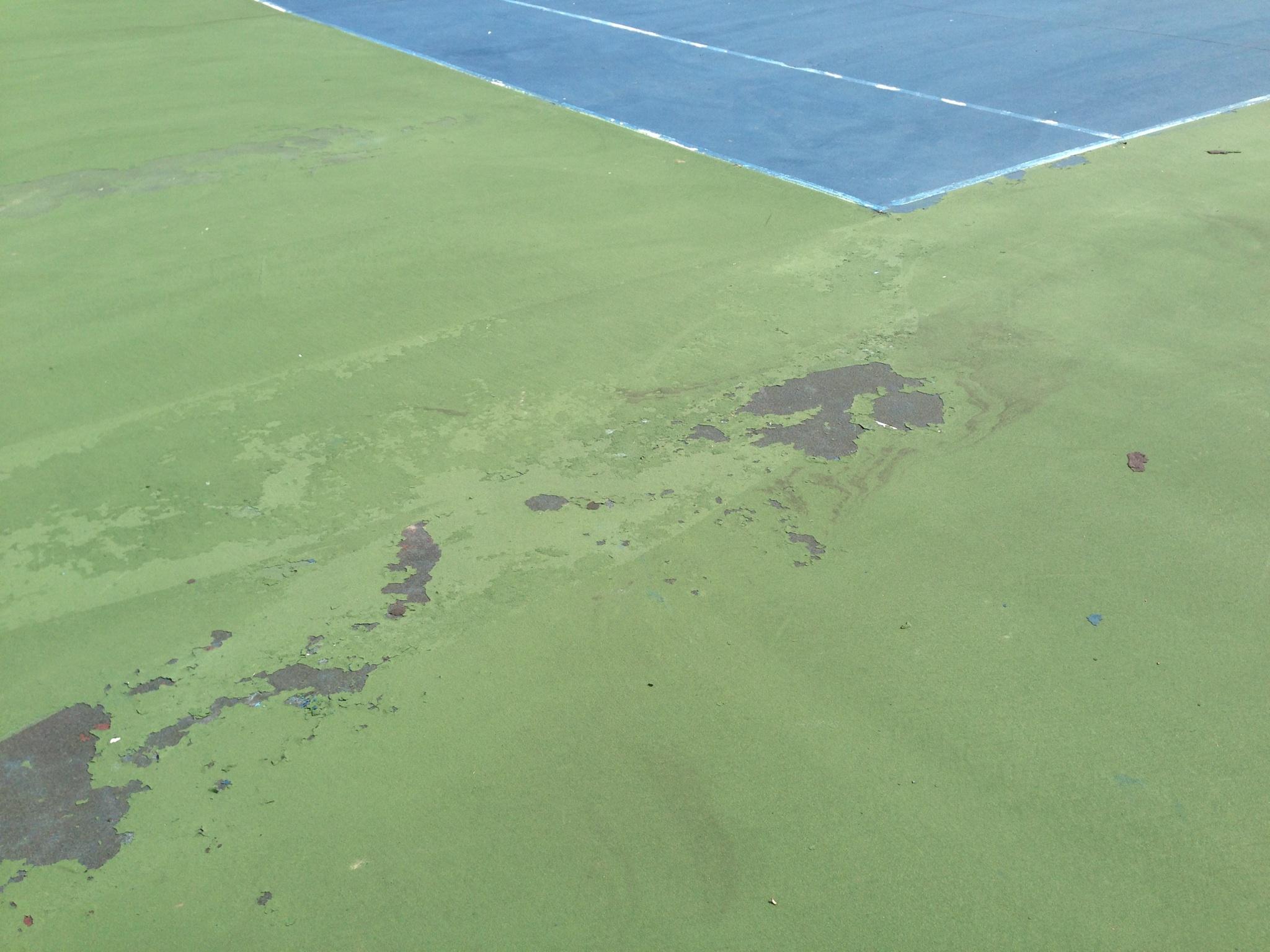 Application During Marginal Temperatures
You have to be very careful when the temperatures are close to the edge.  As a general rule of thumb, don't even think about applying tennis court coatings when the nighttime lows are forecast to be below 50 Fahrenheit / 10 Celsius.  Here are some other important risk factors to consider when temperatures are marginal:
Apply coatings very early in the day, just after dew has dried.
Don't apply much later than early afternoon.
Sunshine is very important to drying and warmth of the pavement.  Shade can prevent drying of coatings for many hours.
Make sure to measure ambient air temperature, as well as pavement temperature.  The ground temperature is usually colder than air temperature during spring and fall.

Infrared Thermometer for measuring surface temperature

High humidity slows down drying, and coatings must dry before they start to cure.
White lines reflect sunlight and are usually the first coating to fail if not properly cured.
Completing the surfacing process in cold weather
What happens if you start a tennis or sports court resurfacing project, and you run out of good weather part-way through?  No worries, you can wait until next spring/summer to finish the job.  It's not worth risking failure and having a major cleanup on your plate.  No matter what stage of the coating process you are in, it can wait until the weather is right.