Bubbles and blisters on a tennis court surface, or other coated sport surface, are fairly common.  This is usually a result of improper tennis court construction or malfunction of the drainage system.  When sub-surface water becomes excessive and is not properly drained away from the court, it can breathe through the slab in a vapor form and create hydrostatic pressure under the coatings.  This pressure builds more in weaker surface areas and creates a blister or bubble.
How Do I Get Rid of Bubbles and Blisters on a Tennis Court Surface?
In order to take care of the bubbles and blisters, long term, you will need to do some investigating.  Start by making sure any and all drains around the tennis court are free of debris or anything that would prevent proper flow of drainage water.  You may want to enlist the help of an architect or excavation professional in order to evaluate the current drainage system and see if it was installed properly, or at all.  If the court substrate is concrete, you must ensure the following:
Was a vapor barrier installed beneath the court when poured?
Are there perimeter drains that can take the water away from the court when it runs off after a rain?
Was the concrete allowed to cure for 28 days, prior to coating?
Was the concrete surface acid etched to neutralize the alkalinity and balance the PH?
Were any curing compounds used on the concrete?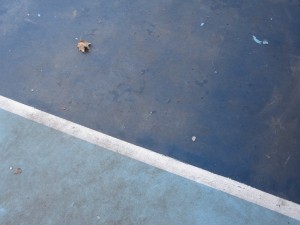 The American Sports Builders Association (ASBA) maintains construction guidelines for asphalt and concrete tennis court and sport surfaces.  Ensure that the construction of the court meets their guidelines and find out from the tennis court builder if they followed the ASBA recommendations.  This may help you figure out why the blisters are occurring.  If you are still not sure what to do, feel free to fill out the contact form on this page and we can put you in touch with a SportMaster recommended, tennis court builder.  They can perform a free site visit with you and provide feedback and estimates for repair, resurfacing, or re-construction. You can view our Engineering Specification for Athletic and Recreational Surfacing on our Sportmaster site.